Society & Sustainability
New idea from Thai students! 'Recycling plastic bags as seedling bags' helping farmers to reduce costs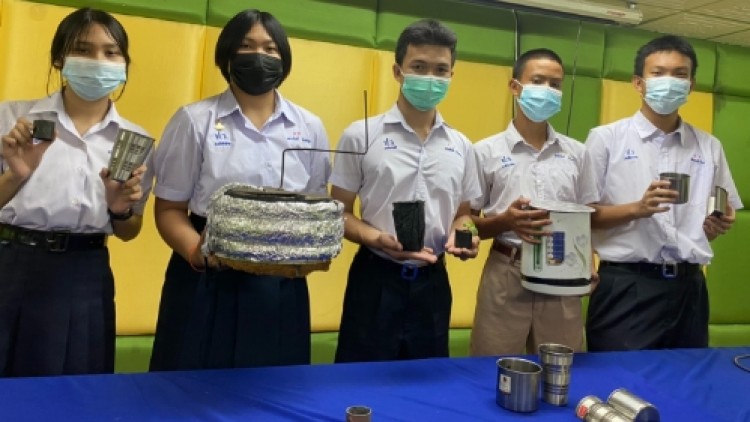 The School of Global Studies, Thammasat University, in collaboration with Indorama Ventures, United Nations Development Program (UNDP), United Nations Children's Fund (UNICEF), and SEAMEO Regional Centre for Sufficiency Economy Philosophy for Sustainability organized the "TU Circular Innovation Challenge" to raise awareness of waste problem in Thailand. It provides opportunities for young innovators to develop skills for inventing solutions for social and environmental problems. 174 teams registered to participate in this project and 108 projects submitted entries. This project aims to drive the circular economy and the sufficiency economy. The project 'Recycling plastic bags as seedling bags' from From-Waste-to-Waste team, a group of Grade 6 students from Pla Pak Wittaya School, Nakhon Phanom won the Water and Sanitation category.
Mr. Songsit Srisanoah or Dutchie, 17 year-old student, From-Waste-to-Waste team leader explained that the initiative started from solving the project problem from observing the farmers. Most of them use the brand new black plastic bags for farming. Once they finish farming, they do not use it anymore and throw it away or partially burn it causing the smoke and pollution without awareness of proper waste management. In addition to costs from using new plastic bags, it also creates pollution. Thus, we came up with this solution.
"After that, 5 people gathered to formed From-Waste-To-Waste team and started a project to recycle seedling bags from used plastic bags by designing a plastic melting machine from unused electrical appliances aiming to maximize the use of used plastic bag for farming. We modified heater plates, cover and water container of an old electric kettle and assembled them as a closed cylinder box. For usage, the nursery plant tray of the required size will be placed inside this box. Then we put the used plastic bags over. The electricity will be supplied to let the heater inside the cylinder box work. The covered used plastic bag will melt over the mold. Then we will let it cool and take it off from the mold. We will get a seedling bag from a used plastic bag in the same size and shape of the mold which can be used for planting instead of using new bags or trays. This helps reduce waste from plastic bags. Based on the performance test, it was found that a recycled seedling bag is as strong, stable and environmental resistant as a brand new one in the market. It can be recycled for another 4-5 times at least which is suitable for gardening and planting."
Evariste Kouassi Komlan, Regional Water, Sanitation and Hygiene Advisor, UNICEF East Asia and Pacific Regional Office said that TU Circular Innovation Challenge encourages the new generation to have initiatives for innovation and new solutions that address environmental, water and sanitation issues, giving them the opportunity to create a good environment thoroughly.
Mr. Yash Lohia, Chief Sustainability Officer, Indorama Ventures said that this challenge provided an opportunity for young people and the new generation to develop ideas and use them in real life according to the recycling and circular economy approach which aligns with IVL's commitment to promoting a circular economy. We believe these young people are our future that can help drive the sustainable change