Leadership
Congratulations to Assoc. Prof. Dr. Worawan Diaz Carballo from Faculty of Science and Technology, Thammasat University, Lampang Campus receiving the "Certificate of Excellence" award as one of the top 10 Scorers in the international workshops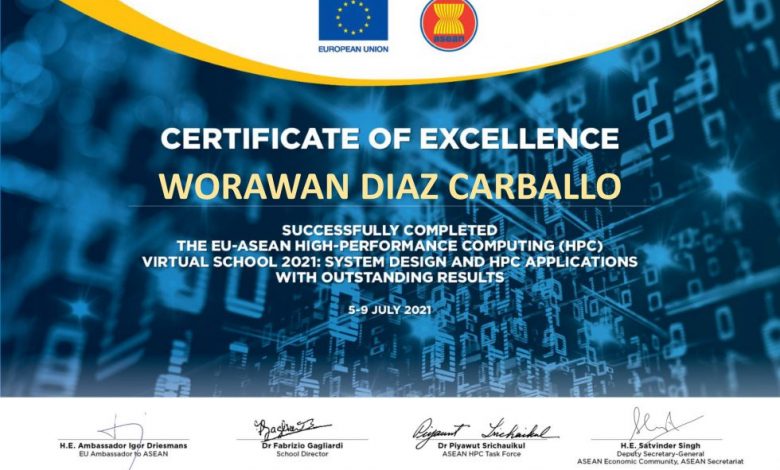 Asst. Prof. Dr. Worawan Diaz Carballo, Professor of Computer Science Program from the Faculty of Science and Technology, Thammasat University, Lampang Campus received the "Certificate of Excellence" award as one of the top 10 scorers in EU ASEAN High-Performance Computing (HPC) Virtual School 2021: System Design and HPC Application, organized by the ASIAN HPC Task Force. This workshop selected 53 persons out of more than 300 applicants from 10 ASEAN countries for participation.
This EU-ASEAN High-Performance Computing Virtual School 2021 workshop is organized by the ASIAN HPC Task Force according to the Enhanced Regional EU-ASEAN Dialogue Instrument, which is development cooperation program that facilitates dialogue forums between the EU and ASEAN for mutual benefit based on the EU's regional integration experience.
This workshop covers the design of software systems for supercomputers, analysis and performance improvement for HPC systems, application of advanced computing device in natural science research to simulate biomolecular mechanisms, advanced processing to support research and development of drugs and vaccines against the COVID-19, customized drug design research, modeling for weather prediction, climate simulation, earth science, atmospheric chemistry, simulation and disaster warning with advanced computing device in Asia and the European Union.