Leadership
Thammasat toward 2023 World-Class University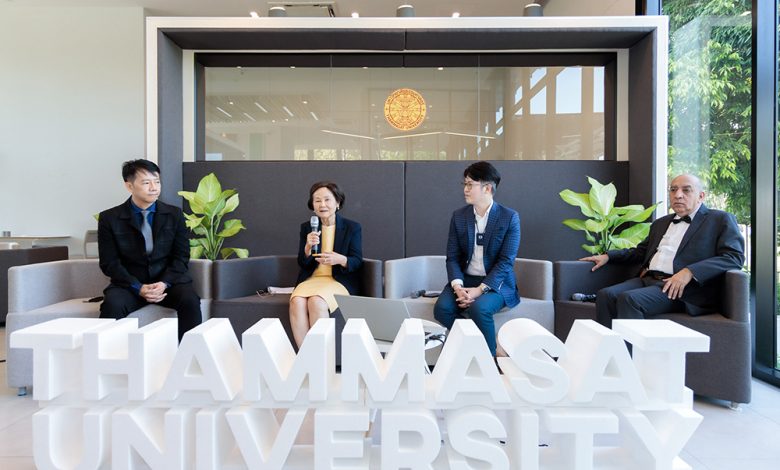 Thammasat University moves forward to international level as it has a strong vision of becoming a world-class university.Facilitated by renowned faculty and comprehensive partners, the university aims at gearing towards a widely-recognized international campus. In doing so successfully, the university realizes the significance of collaboration and digital transformation, as they can help pave its way to become more resilient to the today's highly globalized world of education.
Assoc.Prof.Gasinee Witoonchart, Rector of Thammasat University, said that with its up-to-date teaching practices and innovative research culture, her university has kept bolstering academic standards and helped support change toward a more sustainable society and healthier environment in line with the United Nations' SDGs
Flexibility is key
According to Assoc.Prof. Gasinee, their curriculum is made flexible to offer a wide variety of choices for learnings. Her university focuses on being flexible even in admission and enrollment processes to attract more prospective applicants.
Meanwhile, Assoc.Prof.Dr. Surat Teerakapibal, Vice Rector for Administration (Tha Prachan) and International Affairs, said that while Thammasat personnel have tried to make curriculum and learning style more flexible, boosting a number of full time international students is a key to sustaining his campus's internationalization efforts.
"We assist international applicants througout their academic journeys at our university. Providing free online language tuition, for instance, is our support for their applications, which applied to both English test takers aiming at English programs here and those intending to study Thai–conducted courses. We believe that apart from promoting English–taught courses, making Thai programs internationally known is also important to becoming more internationalized" said Assoc.Prof.Dr. Surat.
To help smooth the application procedures for international students, the university also accepts the application documents which varied according to systems of each respective university, such as credit and grading system or entrance exam scores.
Assoc.Prof.Dr. Surat referred to the Gaokao – a standardized college entrance exam held annually in China, to be used for application as an example. On top of application process, the university ensures its prime supports to strengthen bonds between students and community through various cultural activities and local events.
University for citizens
In adapting to the ever-changing landscape of education sector, Thammasat strategizes its strength as an open and diverse university community to bolster engagement with other sectors.
Assoc.Prof.Dr. Surat said it is high time for his university to re-position itself toward becoming a platform that not only provides education for anyone but also mobilizes collaboration among stakeholders across sectors.
"Turning into a platform will fit a multidisciplinary nature of learning in 21st century. We join forces with partners such as Stock Exchange of Thailand (SET), DEPA, or Bangkok Bank, to jointly create a new body of knowledge, curriculum design, and upskilling programs to become better adapted to the employment market of the future" said Assoc.Prof.Dr. Surat.
In addition, Thammasat University works with international partners to advocate diversity and combat the biases women face at workplace. For example, it has recently collaborated with energy company to ensure female applicants get the jobs they deserve in the company.
"Thammasat's attempt to engage partners outside academic community and promote diversity and inclusiveness is actually a big part of our DNA" concluded Assoc.Prof.Dr. Surat
Move to EEC to help build Thailand's first medical hub
The recent move to mobilize cooperation with private sectors can be witnessed in the newly-established healthcare complex in EEC area, namely EECmd, which will accommodate private companies' investment in health sector as well as quality healthcare facilities and base hospital.
Assoc. Prof. Kammal Kumar Pawa, M.D., Vice Rector for Administration at Thammasat University at Pattaya campus, said the project was initiated by Thammasat University which is aimed at building comprehensive healthcare center and businesses. Thammasat Pattaya Campus will play a central role in driving the investing and research activities.
"Known as "Medical Valley", the area would offer complete healthcare and medical services, elevating Thailand's health services and equip the country for the expansion of its aging population" said Assoc.Prof. Kammal
Driven largely by private sector investors, he expects EECmd to become Thailand's first medical hub and learning resources center. As healthcare industry is on the rise, he reaffirmed, EECmd will be a prototype for the future development of technology and innovation for Thailand which will help promote social inclusion where no one is left behind.