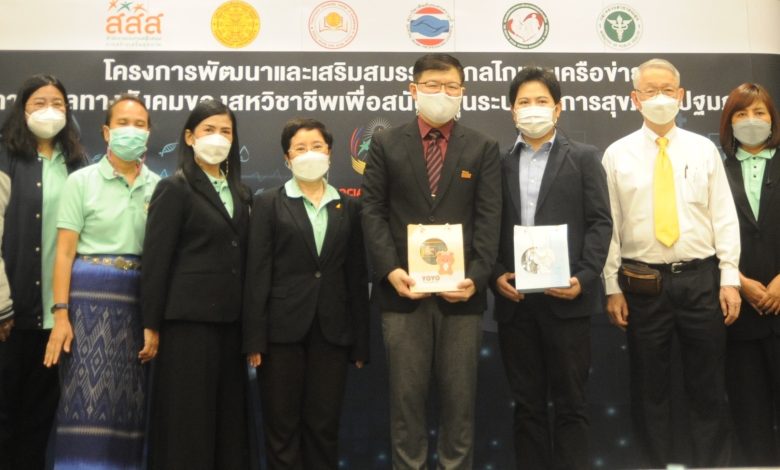 Thammasat University joins hands with the Office of the ThaiHealth Promotion Foundation (ThaiHealth) and its network partners to launch the 'Social Telecare Platform' to create competencies and techniques to work on social care work in the form of Social Telecare Sandbox in their own area under the mechanism enhancement program and multidisciplinary social care network.
Professor Rapeepan Khamhom, Lecturer of the Faculty of Social Administration, Thammasat University, and the program leader said that the operation aims to develop the capacity of social workers and multidisciplinary teams, including developing social telecare platform and tools to communicate with the health care team. This reduces costs in public health and can further develop into social policy proposals for vulnerable groups, and connect with the health insurance system and primary health care systems which will minimize the limitation of the remote service system.
Currently, there has been training to develop the competence of social workers and health care teams, such as doctors, academics, village health volunteers, and the Ministry of Social Development and Human Security Volunteers of 2,077 persons in 6 different courses. We hope that social workers will develop an understanding of assessing patients in the Social Telecare system, as well as formulating a health care plan for patients, families, and communities, which will save both time and improve the quality of life for patients.
This project has received cooperation from 13 health districts across the country, including a network of 89 hospitals countrywide under the Department of Health Service Support of the Ministry of Public Health, Social Work Professions Council as well as other networks such as the Ministry of Social Development and Human Security network, local social workers network, Ministry of Interior, Ministry of Justice network and NGOs. For the Social Telecare platform, there are 23 working tools which are divided into 13 platforms into 13 health zones across the country and are a system for assessing patients that can report results in real-time with a report system function forward patient information to multidisciplinary to provide comprehensive services In addition to being used to contact within the primary network can also use the information obtained to analyze for policy proposals and solve systemic problems in the future
According to the current real-time data, the Social Telecare platform has a total of 924 users which comprises 700 patients and around 200 social workers. In-depth, it was found that 29% of the service users were mobility-impaired. The problem that requires timely assistance is finances that is amounting to over 200 people or 80 percent. In the aspect of screening for patients with depression, it was found that 12.9% were at risk of depression. But the tendency to suicide was moderate. The severity level has not yet been found.