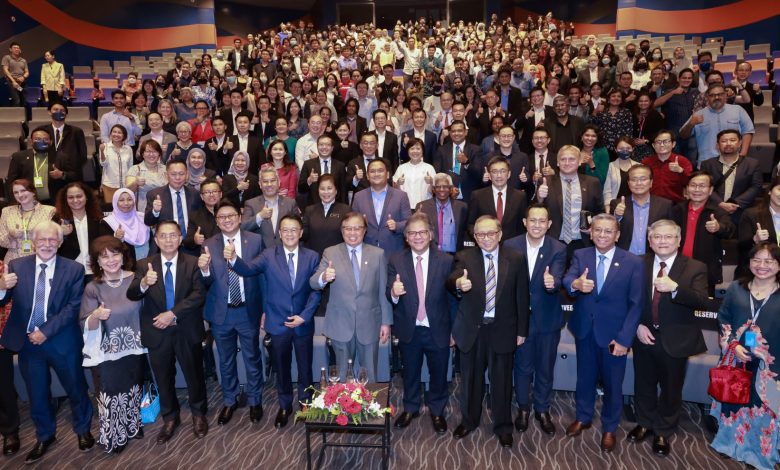 ASEAN Education Cities 2023 Inspired by Sunway
Sunway University hosted the ASEAN Education Cities Conference 2023 (AECC) focuses on Southeast Asian future cities. It is a platform for researchers and scholars from academia, industry, organisations, and other stakeholders, to exchange ideas on the makings of vibrant education cities, best practices, or research findings on smart and sustainable cities, and to work together towards developing and exploring new ways of educating the next generations of planetary-health caretakers.
The conference focused on the way cities function as spaces for education, and also how educational institutions can support the sustainable development of cities and communities, through research, teaching, policy advising, and public engagement.
Among the distinguished speakers for this conference were:
The Right Honourable Datuk Patinggi Tan Sri (Dr) Abang Haji Abdul Rahman Zohari Bin Tun Datuk Abang Haji Openg, Premier of Sarawak
Tan Sri Dato' Seri Dr Jeffrey Cheah AO, Founder and Chairman of Sunway Group
YB Tuan Mustapha @ Mohd Yunus Bin Sakmud, Deputy Minister, Ministry of Human Resources
YBhg Dato' Johary bin Anuar, Deputy State Secretary (Development)/ Director of Selangor State Economic Planning Unit, Selangor State Government
Dato' Seri Paduka Maimunah binti Mohd Sharif, Executive Director of the United Nations Human Settlements Programme, UN-Habitat
Puan Hazami Habib, CEO, Academy of Sciences Malaysia
Tan Sri Dato' Seri Dr Jeffrey Cheah AO shared about the future of Sunway City, "Sunway Group and the Jeffrey Cheah Foundation have fully embraced the 17 Sustainable Development Goals (SDGs), which were adopted by the United Nations in 2015. I am convinced that if we can achieve even just 70 percent of the SDGs, the global Happiness Index will go through the roof and all of us will be happier people. Through the Jeffrey Cheah Foundation, we have pledged a total of 20 million US Dollars to the United Nations Sustainable Development Solutions Network (UN-SDSN)."
YB Tuan Mustapha Sakmud, delivered his ministerial address, sharing about Sunway as a model ASEAN city for UN SDG 17: Partnerships for the Goals. "I am most impressed that Sunway is home to entities such as the UN-SDSN under Professor Jeffrey Sachs, the Sunway Centre for Planetary Health led by Tan Sri Professor Dr Jemilah Mahmood, and of course, one of this conference's key organizers, the Future Cities Research Institute which is in collaboration with Lancaster University, United Kingdom," said YB Tuan Mustapha Sakmud.
"By collaborating, Sunway's been able to generate real-world solutions for the progress of the people and the planet. And the collaboration is cross-sectoral: From education to construction, property, retail, healthcare, hospitality and more. In this regard, Sunway can be an example for other cities in the region," YB Tuan Mustapha Sakmud further emphasised the importance of collaboration.
Prof Dato' Dr. Elizabeth Lee shared during the opening remarks, "With the United Nations projecting an additional 2.5 billion people occupying cities around the world over the next 30 years, with 60 percent of this increase just in Asia, conferences such as the AECC and collaborative translational research platforms like the Future Cities Research Institute between Sunway University and Lancaster University, will play a vital role in identifying the challenges as well as the solutions to ensure that all future city-inhabitants can live and thrive in a productive, dignified, and sustainable way."
The AECC is an event co-organised by the Future Cities Research Institute, ElastiCities Research Cluster, School of Arts, Campus with a Conscience – in collaboration with Sunway University's School of Business as well as School of Hospitality and Service Management, alongside Sunway Centre for Planetary Health, Jeffrey Sachs Center on Sustainable Development, SDG Academy, United Nations Sustainable Development Solutions Network, and powered by the Asian Strategy and Leadership Institute.