Leadership
Dean of Thammasat Business School wins national researcher of the year award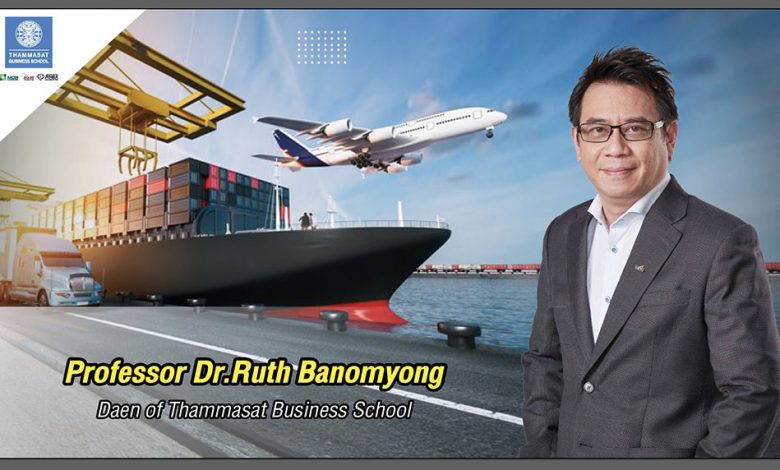 The Dean of Thammasat Business School (TBS), Prof. Ruth Banomyong, Ph.D., has been named National Researcher of the Year in Economics (2022) by the National Research Council of Thailand (NRCT). On receiving the award,  he expressed his hope that Thai business and industry will use his research as a model to further develop logistics infrastructure, connect and integrate supply chains in all dimensions, and increase the capacity of the Thai economy.
Prof Banomyong said that receiving the honor was a source of great pride.  He is optimistic that the study would become a model for practical use in the development and optimization of logistics and supply chains. The research has applications in many areas: development of universal logistics tools, indexes, calculation methods, geography characteristics, logistics policy, supply chain efficiency measurement, trade facilitation, and multi-form continuous transportation.
According to Prof. Banomyong, "Academic research is a kind of philosophy of life. This fact must be understood by anyone who wants to do research. What we want to see is that our work is valid and can be applied. Fortunately, my work has come at the right time: Thailand needs logistical knowledge, and there are many other opportunities in the region, and with the Asian Development Organization, ASEAN, the World Bank, the United Nations. This all gives a great opportunity for a university professor to play a role in turning research into policy. It's a much more important factor than purely academic performance."
"Logistics management is a new science for Thailand and countries in the region. (It is) bringing new knowledge which enables entrepreneurs to compete on the world stage. Such experiences travel to many regions around the world through research which also influences policymakers. To conduct research for the country is to contribute to its competitiveness,  grow the economy, infrastructure, regulations, exports, imports, globalization, and help it manage shocks like  COVID-19. Entrepreneurs are not equipped for that. The content of this research is important as an educational tool for entrepreneurs, both in the private sector and government.
"When we do research, we don't focus on gaining trophies. We do it for cognitive growth, and ….so that our country develops competitively. Knowledge related to logistics and supply chains is very important. For example, the World Bank develops country scorecards to evaluate the quality of logistics on offer around the world. Currently, Thailand is poorly rated. What I'm doing is improving our logistics system to allow us to connect with the world, and to promote our country rankings."
Prof. Ruth ended by noting, "To successfully build on research, a collaboration between three main stakeholders is essential-  the public, private and academic sectors. They must work together. We can also add in a fourth sector- local communities-  which link all the other sectors together. All four parts lead to the development of the Thai logistics ecosystem, and can improve the economy and increase competitiveness."