Spinoff
College of Liberal Arts from CCU Facilitates International Academic Exchange through Platform with Various Strengths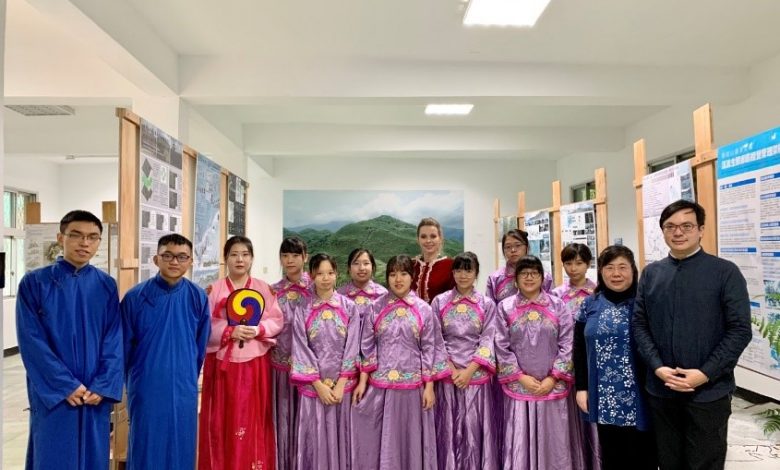 Chinese Culture University (hereinafter referred to as CCU) in Taiwan has been promoting research on "Yangmingshan Studies" progressively in recent years. "Yangmingshan International Cultural and Creative Design Competition" were co-hosted by Yangmingshan National Park Administration (Taiwan) and CCU to showcase breathtaking natural landscape, history and culture image of Yangmingshan. Professor Liao Yi-Jin from the Department of Chinese Literature led the choir to recite a number of classical Chinese poems on the spot, demonstrating abundant humanistic splendor of Yangmingshan Studies. The choir is composed of undergraduate and postgraduate students, with the participation of Ilya from Russia and Yoon Hee-Yeon from South Korea, showing the lingual internationalization of Chinese. In addition, the Department of Chinese Literature holds a "Classical Poetry Competition" every year, inviting judges to give comments, awarding prize money, and encouraging students to create brand-new classical poetry.
The Department of Chinese Literature of CCU has a long historical standing in Taiwan. The department is divided into a section of Classics and a section of Creative Writing. The Section of Classics places the spotlights on the cultivation of classical literature, and the Section of Creative Writing focuses on the creation of modern literature.
The Department of Chinese Literature of CCU attaches great importance to collaboration between industry and school. In order to consolidate students' practical experience after graduation, the department invites well-known editors, authors, film directors, screenwriters, etc., offering students lectures, workshops, and collaborative teaching to appreciate the needs of the industry in advance and enrich functional competency. Invited industry experts include Ms. Feng De-Ping, editor of Wen-Shun Magazine, firing-popularity alumnus and internet phenomenon Huang Zhi-Ming, and contemporary wuxia novelist Shen Mo. Invited celebrities and screenwriters in the media communication industry, such as Ling Zhi-Wen, director of the Department of Program from China Television Company, Ltd. (acronym as CTV), Cao Rui-Yuan, a well-known playwright, and Liu Qiu-Ping, the creative director for Chinese signees from Sanlih Entertainment Television (acronym as SET), are invited to guide students in the form of workshops. Symposiums are inclusive of Workshops for Cultural and Creative Planning, Workshops for Copywriting Planning, Workshops for Literature & Digital Cultural Media, Workshops for Screenwriting Practice, Workshops for Words Application, Workshops for Secretarial Affairs in Mandarin, Workshops for Literature and Advertising, Workshops for Story Telling and Illustration, and Workshops for Hwa-Kang Literature and Arts Creation, etc., to this day. Activities from the Department of Chinese Literature of CCU are hosted to encourage students participating in various competitions in the form of teamwork, reinforces practical experience, and also blazes new trails for the future of students. And above all, these workshops garners general acclaim.
For further more detailed associated information, please visit the website of the Department of Chinese Literature from Chinese Culture University (CCU): https://classic.pccu.edu.tw/bin/home.php