AppliedHE
TSoM hosts first-ever Virtual Internship and Job Fair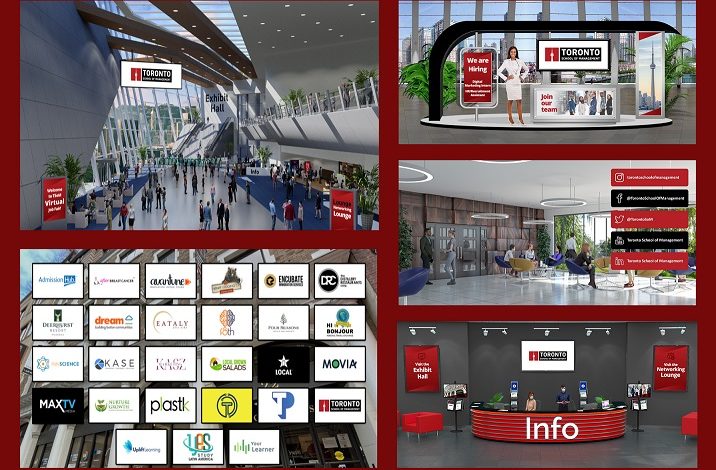 Toronto School of Management (TSoM) hosted it's first-ever Virtual Internship and Job Fair on Thursday 15 July.
With about 400 student registrations and 27 companies present, this event was designed to allow employers and students to connect, network, and learn more about the job market.
27 employers from various industries attended the Virtual Internship and Job Fair. These companies represent fields including hospitality and tourism, digital marketing, business, big data, and cybersecurity.
Irene Lasker, Career Services Manager, said: "During a challenging time amidst the pandemic, this virtual internship and job fair allowed TSoM to bring together students and potential employers. Our students had a great opportunity to network and build valuable contacts relevant to their program and career path, as well as gain a competitive advantage by learning more about the participating companies."
Through this successful virtual event, the companies were able to increase students' awareness about their business and industry while recruiting qualified candidates for internships and part/full-time permanent positions to address staffing needs. The employers could also build their roster of candidates for internships, part-time and full-time positions.
The event is part of the institution's continuous effort to provide students with dedicated career support, helping their transition from the classroom to a working environment. "Despite the restrictions imposed by the COVID-19 pandemic, we were able to host our first ever Job Fair, using virtual tools and online platforms to maximise attendance and interaction between participants.
"The virtual job fair was well received by all those in attendance. It was a successful experience, providing useful feedback and learning points that we now plan to implement and develop this initiative into a recurring event," added Irene.
For more information visit https://www.torontosom.ca/
About Toronto School of Management – Inspired by industry. Driven by student success.
Toronto School of Management (TSoM) is an innovative college offering a broad range of career-focused programs in business, hospitality and tourism, digital marketing, cybersecurity, data analytics and accounting.
Located among some of North America's leading firms and organizations, the school offers an ideal environment for students who are eager to immerse themselves in a vibrant business community and diverse cultural activities.
Toronto School of Management is a registered private career college accredited by the Ministry of Colleges and Universities.