Research
Thammasat University conducts joint research: "Thailand's One Year After Covid-19"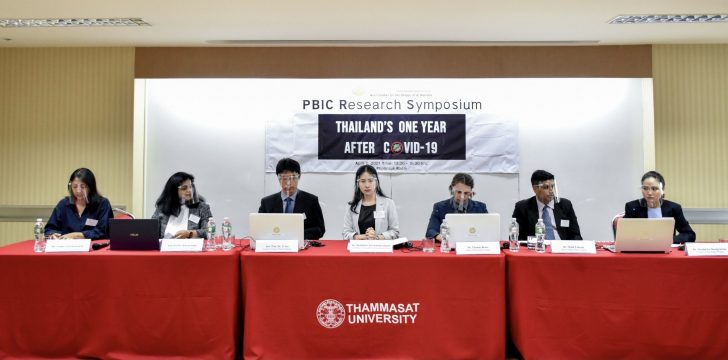 At Pridi Banomyong International College, Thammasat University, academic scholars from Thai studies, Chinese studies and Indian studies collaborated in conducting research under the topic of "Thailand's One Year After COVID-19" to study the effects and analyze results to offer solutions and policy proposal that provides benefits to Thai people and community as follows.
Assistant Prof. Dr. Yi Lin from Chinese Studies Program found that focusing on cultural and traditional tourism would contribute to more success for Chinese tourist market to allow social and cultural exchanges between Chinese tourists and Thai people. The key for positive attitude between Thai and Chinese people is that both of us have long-standing social and cultural integration.
Dr. Thomas Bruce, Head of Thai Studies Program, who highlighted the study of "The Impact of COVID-19 Pandemic on the Food Retail in Bangkok", found that government measures against COVID-19 had a direct impact on the food retail and public transportations that remain available, such as MRT, are the crucial factors to the survival of Chinatown's food retails because despite loss of foreign tourists, they were replaced by Thai customers.
Asst. Prof. Dr. Shweta Sinha from Indian Studies Program conducted a comparative study of the effects of COVID-19 on the agricultural sector of India and Thailand. The results showed interesting facts; during the pandemic, India increased rice exports by 44% compared to 2020. Vietnam also ordered rice from India for the first time in decades. However, Thailand rice exportation decreased by 31%due to its high price resulting in lack of competitiveness. According to Bank for Agriculture and Agricultural Cooperatives (BAAC), Thai farmers had a household debt of 54% and 50% of Thai farmers had debt over 200,000 baht per household and another 20% owe more than 400,000 baht per household.
"The challenges of the agricultural households are declining income and increase in debt, COVID-19 is also a factor of digital disruption."
Dr. Mohd Faheem, Head of Indian Studies Program, addressed the lessons learned during the lockdown in India which resulted in a massive relocation of labor to bigger cities for works and better income. Most of the migrants suffered from shortages of food, shelters, and money. In addition, they dealt with anxiety, paranoia, and fear of COVID-19 infection. Thus, his research suggested that the most important thing is that the labors should not have been ignored by the government. Establishing labor database and distributing opportunities to the countryside would help manage and minimize migration to big cities.
Dr. Usanee Lertrattananon, Head of Chinese Studies Program, found that during the COVID-19 crisis, live streaming technology had become a key to success for several businesses. In addition, it became the people's mean to socialize. There were various successful Chinese websites and applications, e.g., Lazada, Shopee, and TikTok, that was introduced to Thai market. Therefore, COVID-19 offered opportunities and challenges for businesses at the same time.
Dr. Ornthicha Duangrat, Thai Studies Lecturer, focused on the conflicts between the superpowers, China and the United States. COVID-19 pandemic had inevitably intensified the competition between these two nations as well as expanded the influence of their powers. While vaccination currently played an important role. As we could see from Vietnam and the Philippines that they had to compromise and adapt themselves to balance the power of China and the United States. Likewise, Thailand needed to find more approaches for vaccination which might get from the ASEAN cooperation.
Prommin Lertsuridej, M.D., the Former Deputy Prime Minister, said "The first priority of Thailand at this moment is vaccination and availability of rapid test kit to allow borders reopening." so that Thai people would not lose their hope and faith. To be able to find infected patients quickly could save time and cancellation of quarantine measure would increase tourists' interest in visiting Thailand. Rapid test kit is affordable and Thai specialists are developing it. I would like to see more of the government's attention on this issue."
COVID-19 has an impact on various aspects. It is more than a health issue because its impact remains widespread through the economy and society. This crisis is not only a challenge, but it is also a change which allows us to learn and grow at the same time.