Learning
Thammasat University won global championship at OpsSimCom 2021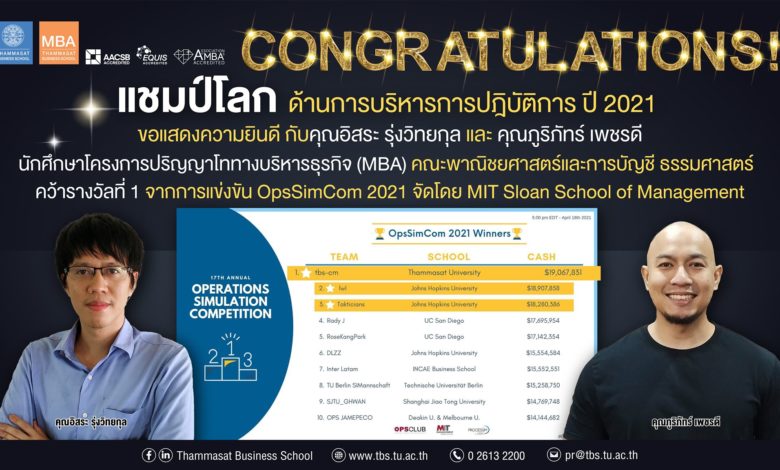 MBA students from the Faculty of Commerce and Accountancy, Thammasat University, on behalf of "tbs-cml" team, beat 61 contestants from the world's top universities and won 1st prize at the Operations Simulation Competition 2021 (OpsSimCom 2021), global competition organized by MIT Sloan School of Management, the business school of the Massachusetts Institute of Technology (MIT).
In this competition, the contestants ran a virtual factory through the Medica Scientific game for 2 days. The duration equated to 388 days, divided into 3 phases: 50 days for data in the start period, 288 days that the contestants are allowed to manage, 50 days for supervision according to their planning but they are not allowed to manage. The results were based on the amount of cash that remained. MBA Thammasat has joined the competition every year since 2009 and won the world championship for the first time in 2016.
Mr. Issara Rungwittayakul, a "tbs-cm1" team member from Thammasat University, explained that the challenging part of this competition was that there were two production lines and market price fluctuation. In addition, the data given in the first 50 days was insufficient for business planning. An accurate strategy was required because a decision has an impact on business for up to 6 days and human resources and finance needs to be managed as well. Since every team can take on loan with no limits on condition that they have to pay interest up to 36.5% per annum including 2% of fees, we need to carefully consider the decision to take out a loan. If it is too much, it will result in high financial costs without profit.
The most important thing that made us win this competition is that we analyzed market conditions, costs and selling prices with high profit margins. Our team used strategies that focused on short-term loans for investment in the first period then we managed to boost production capacity and cost reduction as much as possible. Due to the high amount of loan in the first place, we were at the bottom of the ranking but thanks to higher capacity and lower cost, we gained profits better than our competitors and the profits we made were much higher than the financial costs.
Mr. Puripat Petchdee, a "tbs-cm1" team member from Thammasat University, said knowledge is very crucial in this game. Thanks to Thammasat university, we gained the business knowledge which we have to know what we want our business to be, which direction to go, and what we need to do, for example, Investment Management course will focus on return on investment and risk management as well as computational skills that allow us to choose the strategy for the most profitability.
Mr. Puripat also said that studying at "MBA Thammasat" has made a great contribution to the success of this competition because of intensive ciriculum. He used to wonder why but now it is crystal clear when the knowledge gained from those courses is applied. Having sufficient knowledge will help us to make an accurate and rational decision which will also be beneficial for future career.