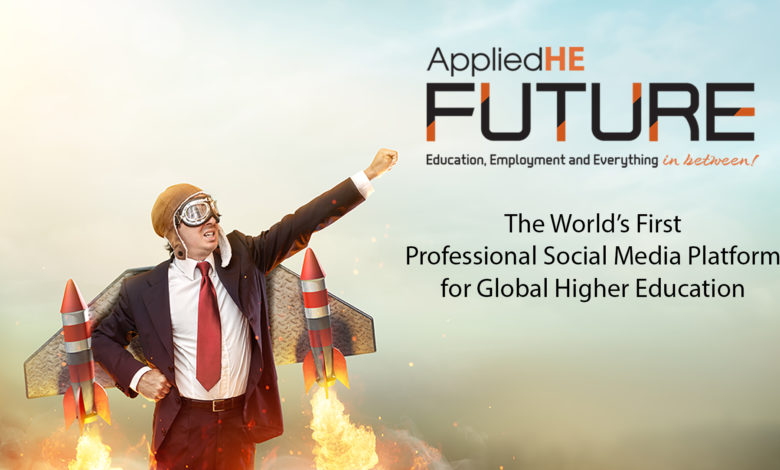 AppliedHE FUTURE Launched: World's First Professional Social Media Platform for Global Higher Education Community, Alumni & Employers
AppliedHE has launched AppliedHE FUTURE a new online platform designed to connect all stakeholders in the higher education community: students, faculty, alumni and employers, in ways that facilitate collaboration, life-long learning, mentorship and employability.
SINGAPORE, Wednesday 20 January 2021 – Singapore-based EdTech start-up AppliedHE has launched AppliedHE FUTURE (https://FUTURE.AppliedHE.com), its new online platform that brings together all stakeholders from the higher education community in one place with the aim of enhancing students course selection process, improving graduate employability, facilitating life-long learning, among others.
"The trend in higher education is towards convergence: closer collaboration between institutions, government and businesses to address challenges like life-long learning, graduate employability and innovation. The problem is: how do you do that?" noted Mandy Mok, CEO & Founder of AppliedHE. "At the end of the day it's about connecting people, and that is exactly what AppliedHE FUTURE does."
AppliedHE FUTURE is specifically designed with the needs of different higher education stakeholders in mind. An important part of this is trust: institutions and users can be verified so that a casual user knows they are interacting with a real institution, student, faculty member or alumnus.
"The look and feel of AppliedHE FUTURE is very much like the social media platforms you are used to: it's all very intuitive. But what you can do with it, that is completely different," explained M. Ruwan Chinthaka, Chief Technology Officer of AppliedHE.
Users, including prospective students and their parents can register on the platform free of charge. "We see this as the beginning of a life-long education and career journey. We want AppliedHE FUTURE to be by your side from when you leave high school to when you enter the job market, pursue further education, decide to mentor students, until you retire. Basically from cradle to grave," added Mok.
Noting on the platform's development pathway, Mok explained that today's launch is just the beginning: "we have a 5-10 year development horizon, every few months we plan to add a new module or feature. Right now our main focus is on distributing information, but we're planning platforms for course admissions, internships, alumni relations, allied services, you name it. Our slogan for AppliedHE FUTURE is that we offer Education, Employability and Everything in Between!"
User responses have also been very positive.
Mrs Geok Hwa Tan, a parent of a pre-university student from Singapore who tested the platform, says: "AppliedHE FUTURE is a great way for parents to learn about the higher education sector first-hand. I can interact directly with academics and institutions and I have learned about a range of educational opportunities that I never knew existed!"
Ms Rudy Wong, a recent graduate from Singapore, noted: "I wish AppliedHE FUTURE existed when I was a student. There is so much information about institutions and opportunities to interact. It's fantastic! I will definitely use AppliedHE FUTURE when I look for a graduate program."
Prof Syed Amir Gilani, Dean of the Faculty of Allied Health Sciences, University of Lahore, said: "AppliedHE FUTURE is amazing! It's a great way to reach out to top-notch academics from around the world. I'm really looking forward to using AppliedHE FUTURE to connect."
In its initial launch phase, some of the platform's most important features are:
Gain unique insight into the quality of higher education institutions through AppliedHE's JOB-Ready Rating results and AppliedHE Rankometer (university ranking, to be launched on 20 January 2021)
Read the news from AppliedHE's Xtra! Xtra! global higher education news platform and other well-regarded sources, as well as the opportunity to submit stories to Xtra! Xtra!
View institutional profiles of 500+ verified higher education institutions where users can share experiences, ask questions and interact with verified students, faculty and alumni.
Create pages to post information about projects, gather like-minded collaborators or discuss on a topic of common interest.
Register and view webinars from AppliedHE as well as from higher education institutions from around the world; institution can post their webinars to reach a global audience.
Press Contact for FUTURE
Please write to info@AppliedHE.com.