Leadership
Cataract removal with "Phaco" technique, for the first time in Qatif Central Hospital: A breakthrough for Cataract Patients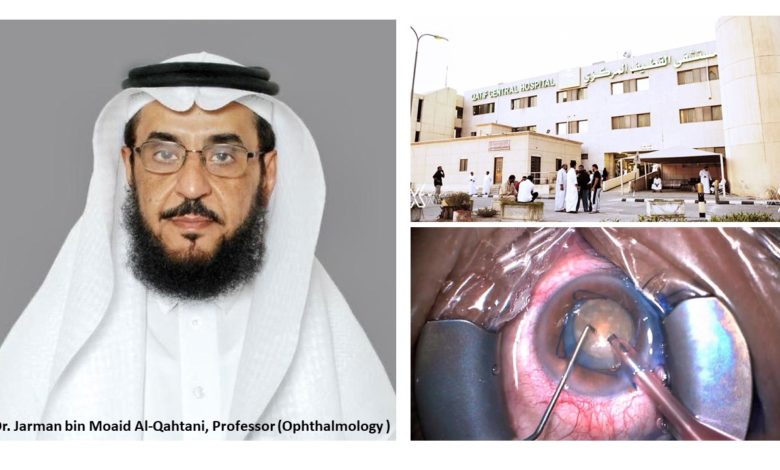 Within the charitable initiatives for cataract surgery carried out by Dr. Jarman bin Moaid Al-Qahtani, Professor of Ophthalmology at Imam Abdul Rahman bin Faisal University and Ophthalmology Consultant at King Fahd University Hospital of the university. Over various regions in KSA, Dr. Al-Qahtani was able to end the suffering of 50 patients with cataract were on a long waiting list at Qatif Central Hospital.
Despite the difficulty of the task, Dr. Al-Qahtani performed all the operations by ultrasound fragmentation (phaco) for the first time in Qatif Central Hospital without any anesthesia except for local drops in the eye, and Dr. Al-Qahtani performed that during a period for training the technical staff to deal with the fragmentation device. Although most patients were suffering from the presence of complete cataract, but all the procedures met success.
During his mission at Qatif Hospital, Dr. Al-Qahtani used his surgical tools he keeps them along his initiatives, as he personally owns complete surgical tools to perform such operations of six consecutive patients.
Dr. Al-Qahtani offered sincere gratitude to the two main supporters for the success of this mission, namely:
His Excellency, the businessman Mr. Jamal bin Abdul Majeed Al-Ali, the financial supporter who provided all the consumables for this mission.
His Excellency Dr. Abdul Aziz bin Abdulrahman Al-Ghamdi, CEO of the first health cluster in the Eastern Region, who has a major role in overtaking the obstacles and achieving this success.
He also thanked all the colleagues in the Health Cluster and Qatif Central Hospital, among administrators and doctors, who contributed to the success of the mission.
Review & Edited by: University Ranking Department