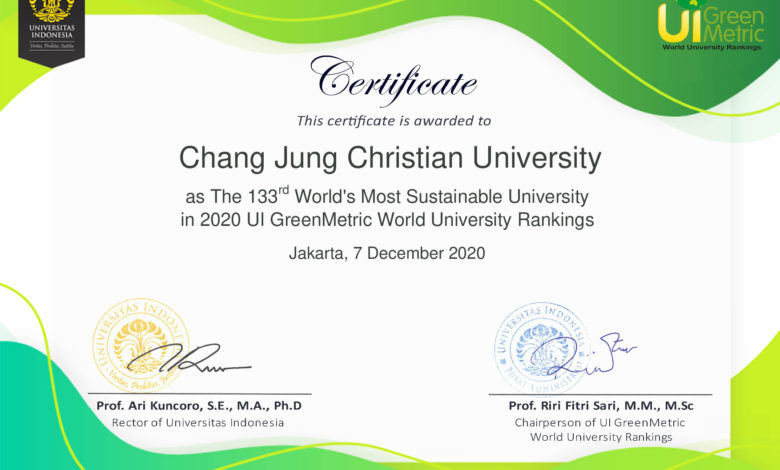 Chang Jung Christian University (CJCU) ranked 133rd, moving up 44 places from last year, among 912 universities from 84 countries in the 2020 UI GreenMetric World University Rankings (UI GreenMetric). Of the 26 Taiwan universities that made the list, CJCU ranked 13th, two places better than last year, indicating a big improvement in sustainability.
The 2020 UI GreenMetric uses six indicators: (1) setting & infrastructure, (2) energy & climate change, (3) waste management, (4) water, (5) transportation, and (6) education, totaling 9,700 points. CJCU scored 7,250 points, an increase of 1,025 points from last year's. CJCU performed especially well in three indicators: transportation ranked 89th, waste ranked 94th and education ranked 95th.
Dr. Lee Yung-Lung, the president of CJCU, said that the school has always focused on a sustainable green campus as a part of the university development. CJCU starts with the daily necessaries of faculty and students in its green-sustainable ideal. Regarding transportation, CJCU is the first university in Taiwan with a train station on the campus. Therefore, the school encourages faculty and students to take the train to school. With respect to waste management, students grouped a bike-recycling team to repair the abandoned or broken bikes to reach the recycling goal. On the education front, the school focuses on UN sustainable development goals (SDGs).  From lectures to courses to connect the SDGs with the school development to pursue high-quality education. In the future, the school will continue to work hard on green sustainability and protect the environment. Sharing the value of sustainability and fighting to become the best green campus in the world.