Research
Which Masks Really Protect Against Covid-19? Researchers at CJCU Investigate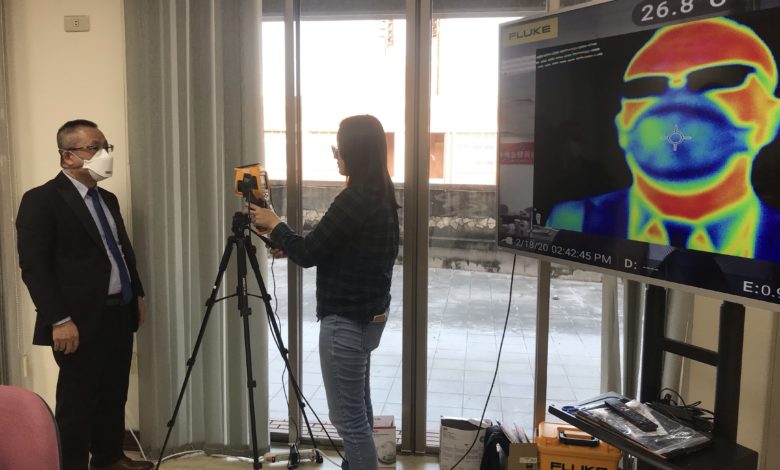 As the outbreak of COVID-19 spreading worldwide, CJCU in Taiwan has worked on the epidemic prevention and developed a technology to quickly examine the barrier performance of mask. By cooperating the infrared imaging technology, it can precisely examine whether a mask is able to successfully isolate the wearer's nose and mouth from the external environment. Through the simultaneous examination of the pressures and the air particulates count inside and outside of the mask, and the evaluation of thermal imaging to more quickly and correctly determine whether a mask has a leak or not. It can also check the permeability and anti-penetrability of the skin protective equipment.
In order to contain any possible outbreak, CJCU has not only developed such technology, but also signed a memorandum of collaboration with four major international protective gear manufacturers, Taiwan Minnesota Mining and Manufacturing Company (3M), Tungsafe Corporation, DuPont Taiwan, and Derekduck. An examination standard will be developed together to establish a fair and standardized evaluation and detecting system for testing the performance of the protective gears. It will promote the regulation of professional personal hygiene gears, and improve the correct usages of the epidemic-prevention protective gears.
Dr. Lee Yung-Lung, the President of CJCU, indicated that making efforts in epidemic prevention is the university's mission and as one way to practice university social responsibility. CJCU also actively works with the industries and promotes industry-academia collaboration with enterprises locally and internationally. Through these collaborations, students are given internship opportunities while studying at the university, and learn the professional skills required in industries and more aware of the market orientation, which will extend employment prospects in the future.
To be in line with global trend, CJCU has established a curriculum for the international bachelor degree program which is fully conducted in English. It gives international students the opportunity to gain professional knowledge and to learn global management practices from Taiwanese companies and international companies.