Partnerships
The Prime Ministers of Vietnam – Singapore inspire students to strive forward
On August 29, Prime Minister Pham Minh Chinh and Prime Minister Lee Hsien Loong visited Hanoi National University and had lunch with students on the occasion of the official visit of the Prime Minister of Singapore to Vietnam from 27-29/8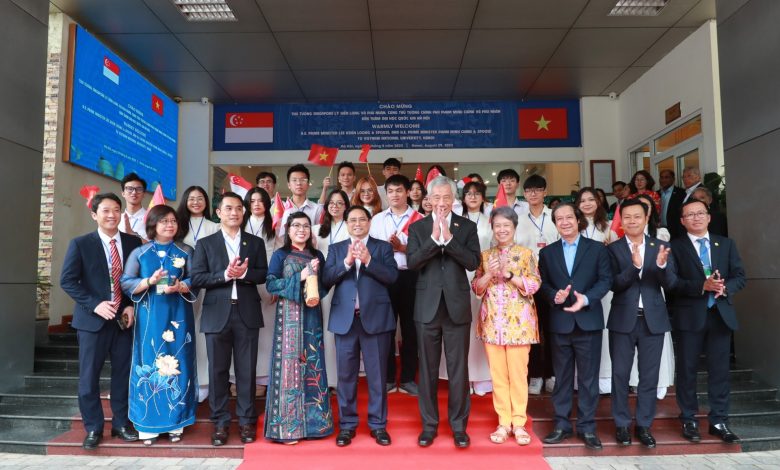 On the occasion, VNU students expressed their interest in Singapore's policy on education, science, technology and innovation; digital economy – green economy partnership between the two countries; valuable experiences and lessons on the path of learning and training to the success of Prime Minister Lee Hsien Loong; policies to promote cooperation between Singapore and Vietnamese universities, especially in some areas of research, innovation, and artificial intelligence; expectations of leaders with the young generation.
Prime Minister Lee Hsien Loong said that Singapore is making efforts so that people can travel by public transport, reducing personal vehicles. It is a way to reduce environmental pollution. But what is more important is the behavior of people with the environment.
Mr. Lee Hsien Loong shared that in Singapore, there are many campaigns to remind people to respect the principles of protecting the living environment. This is also applied to students' education in schools. Preserving the environment is reflected in the realistic activities of the youth, such as planting trees, taking care of daily watering, or designing with their families the living environment in a green and clean home system.
Find out more : VNU University