Leadership
Thammasat opens the Thammasat AI Center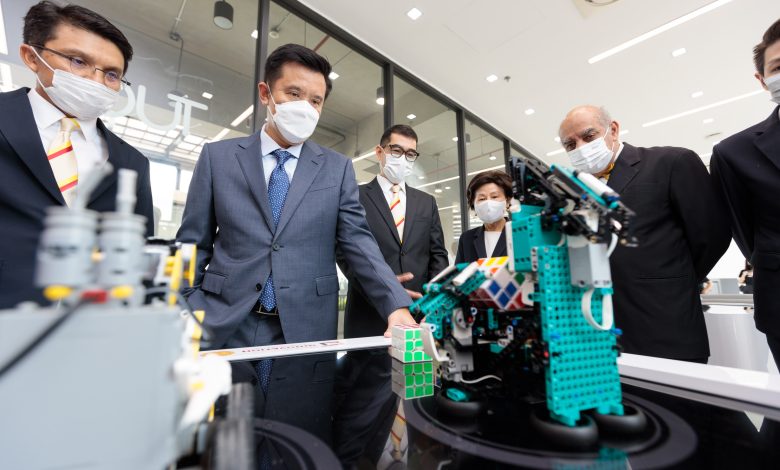 Thammasat University organized the opening ceremony of the "Artificial Intelligence Center of Thammasat University" or "Thammasat AI Center" to be a center for training, research, and knowledge development for the new generation and those interested in artificial intelligence technology. Minister of Digital Economy and Society (MDES) honored to join the opening ceremony together with Assoc. Prof. Gasinee Witoonchart, Rector of Thammasat University, and executives to visit the AI class atmosphere at the SC 3 Building, Thammasat University, Rangsit Campus.
Assoc. Prof. Gasinee Witoonchart, Rector of Thammasat University, said that Thammasat University has continuously driven new projects, and developed innovation, knowledge, and digital skills. Recently, the Thammasat AI Center was established with the goal of being a center for artificial intelligence technology knowledge training for students, business sectors, and the general public as well as increasing the area for creative research in artificial intelligence to stand out and ready to upgrade to national and international cooperation, supporting the challenging transition of Thailand into the artificial intelligence era in the future.
At present, in addition to Thammasat AI Center, Thammasat University has initiated 3 new projects, namely 1. Medical Valley Project, a prototype integrated medical innovation center, Thammasat University, Pattaya Campus; 2. 88 sandbox project, a learning center for entrepreneurial skills of the future 3. TU Metaverse project to build the 5th campus in Metaverse with AI courses for both bachelor's, master's, and doctoral degrees, teaching both on online and offline platforms, collaborating with over 60 organizations to develop artificial intelligence innovators and engineers to enhance the country's AI potential.
Thammasat AI Center has 3 main objectives namely 1. To be a learning center for people in AI 2. To be a center for knowledge and understanding through training at both basic and advanced levels 3. To be a platform for research studies and innovations with the AI Showcase room to display technologies and demonstrate the works of AI and AI Classroom which is a classroom and a computer lab. In the past, 5 AI courses have been developed, and AI Crash Course training for high school students from 38 schools in 2 generations, as well as producing international academic works, etc.