Research
Thammasat student invented a way to find "hidden ownerships", revolutionizing the knowledge of the capital market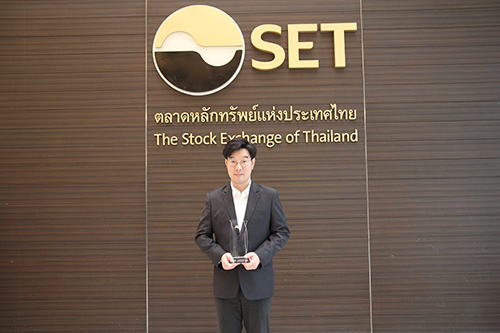 The research entitled "Hidden Ownerships and Corporate Governance" by Nattawut Waengwan, a Ph.D. student, Faculty of Commerce and Accountancy, Thammasat University proposes a practical way to measure ratios, which is considered a great revolution in capital markets knowledge. In addition, it received an outstanding research award in the capital market from the event to promote the production of capital market research to further benefit the development of the Thai capital market by the Stock Exchange of Thailand.
"In the past, there have been quite a lot of studies on the shareholder structure and corporate governance, yet the results of the study may not be correct at all if not considering the shareholding through an agent as can be obtained from the results of various past research, which often contradicts theories and beliefs. We call this conflict a 'puzzle'. One reason is that it often ignores or excludes shareholding through agents because it is a limitation of data acquisition as well as the difficulty in how to link the shareholding through representatives," said Nattawut.
This research proposes a technique to measure hidden stock ratios, known as "Combinatorial Optimization", including studying the impact on corporate governance through the company's project implementation. Nattawut explained that the method used is grouping the most suitable structure obtained through information from thousands and tens of thousands of shareholder structures, and voting information to shareholders which do tens of thousands of variations and then see whose name is in every form and separate out in order to know whether the nominee or that shareholder is the representative of the major shareholder.
Nattawut went on to say that by finding a way to measure the true shareholding ratio of major shareholders, academic knowledge may assist in reviewing the results of previous research or as a way of dismantling previously inaccurate knowledge. It also makes it clearer to understand the body of knowledge connected to the shareholder structure and corporate governance and creates a standard for research studies on this issue in the future.
In addition, the benefits on the part of entrepreneurs will help in making policies to enhance disclosure of information, report preparation, and database standardization. It can also be used to link and track related transactions or trades more efficiently.