Research
Game-changing approach: Card game by NUS Business students aims to break the taboo of end-of-life planning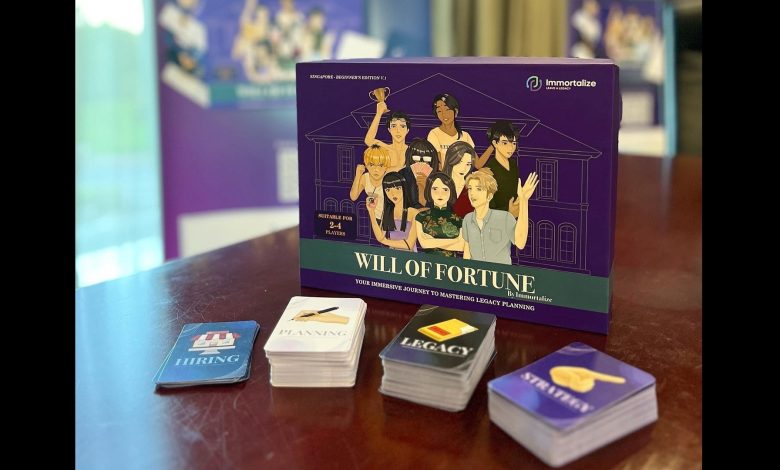 In a society where discussions about death remain taboo, a team of NUS Business School undergraduates have taken on the challenge to change the way we approach legacy planning. Fuelled by both innovation and imagination, they have created a game that not only captivates its players but also serves as a catalyst for open and meaningful conversations about preparing for the future.
Breaking the silence on legacy planning
When it came to selecting a topic for their Field Service Project (FSP), Bachelor of Business Administration (BBA) students Koh Ngiap Seng, Chiu Yu Xuan, Jonathan Chin and Mandy Tay jumped at the opportunity to collaborate with legacy, retirement, and eldercare planning start-up Immortalize.
The task? Improve or create a new game to spark interest in end-of-life planning.
Ngiap Seng, a Year 4 BBA student and President of NUS Board Games, said the brief by Immortalize immediately caught his eye. "I've ample experience playing board games, from simple games like Codenames to complex ones like Nusfjord. This [project] about creating a game was perfect for my skillset, and I'm glad my teammates were receptive to it."
Jonathan, a Year 4 BBA student, shared that end-of-life planning used to be a difficult subject for his family to talk about, with his parents broadly stating that everything was "taken care of" whenever the topic was broached. "Looking back, I realise that having a way to break the ice and make everyone feel more comfortable when discussing death and end-of-life planning would have been appreciated," he added.
The Immortalize project is one of 214 FSPs in Academic Year 2022/2023. The team embarked on the project in Semester 1, with a designated timeframe of 13 to 15 weeks for completion. They strategically divided this period into distinct phases, including research, ideation, game creation, user testing, and evaluation, allocating one to two weeks for each stage.
The team play-tested Immortalize's existing concept of a conversational drinking game, but found it awkward and difficult to play. They eventually decided to build a game from scratch, with the objective of making it fun, engaging and repeatedly playable.
Read more : NUS Edu