Research
EdUHK Wins Seven Awards at Geneva's Invention Expo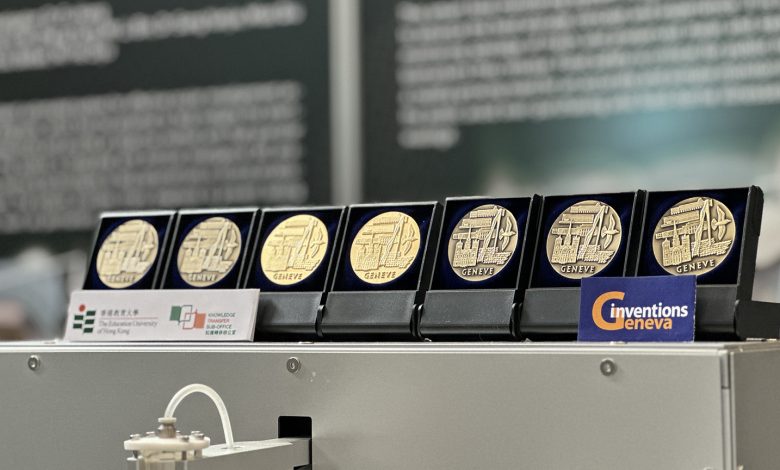 The Education University of Hong Kong (EdUHK) garnered seven awards – a Gold Medal with Congratulations of the Jury, a Gold Medal and five Bronze Medals – at the 48th International Exhibition of Inventions Geneva. The award-winning inventions covered a wide range of areas, including green technology, healthcare, educational technology, food safety, acoustic novelty, metaverse and sport innovation.
An innovation for the rapid quantification of microplastics, developed by Dr Chris Tsang Yiu-fai, Associate Professor at the Department of Science and Environmental Studies (SES), received a Gold Medal with Congratulations of the Jury in the 'Protection of the Environment – Energy' category. This is the first time that any of EdUHK's inventions have received this prestigious recognition at the Geneva event, and less than 16% of this year's inventions were awarded such honour.
Dr Fu Hong, Assistant Professor at the Department of Mathematics and Information Technology (MIT), has invented an ocular misalignment measurement system which received a Gold Medal.
The expo is widely recognised as the world's most important event exclusively dedicated to inventions. This year, it attracted innovations from over 42 countries and regions, featuring a total of 820 exhibits. EdUHK's award-winning inventions are:
Gold Medal with Congratulations of the Jury
1. Rapid Quantification of Microplastics Using Total Organic Carbon Analysis with Simple Sample Pretreatment
Principal investigator: Dr Chris Tsang Yiu-fai, Associate Professor, SES
An all-in-one semi-automatic sample pre-treatment device that can efficiently and accurately quantify microplastic abundance in water and slug samples.
Gold Medal
2. An Intelligent Ocular Misalignment Measurement System
Principal investigator: Dr Fu Hong, Assistant Professor, MIT
This fully automated machine measures ocular misalignment, with enormous potential to help mitigate the shortage of eye professionals and provide an objective method with high granular measurement.
Bronze Medals
3. Audio-Tactile Chinese Characters: Bringing Multisensory & Novel Learning Experience to people with visual impairment and with Special Needs
Principal investigator: Dr Hung Keung, Associate Professor, Department of Cultural and Creative Arts
Chinese radicals in several 3D tactile character models allow students to experience the structural formation of Chinese characters through touch and sound. This multi-sensory learning kit is designed to break visual and social learning barriers, especially for people with visual impairment or special needs.
4. Nano-Sensor System for Meat and Seafood Monitoring
Principal investigator: Professor Stephen Chow Cheuk-fai, SES
A food monitoring device that offers a new and convenient way to monitor food safety, with a series of chemo sensors to detect the chemical substance released from rotting food.
5. Learningverse – A 3D Metaverse for Online Collaborative Learning
Principal investigator: Dr Song Yanjie, Associate Professor, MIT
A 3D metaverse providing a custom virtual tool for online collaborative learning in school education. It enables customising of avatars and mirrors users' interactions with a computer and a webcam to enhance immersive learning.
6. A Tuneable Multi-Feature Active Noise Cancellation Headset
Principal investigator: Dr Steve Mung Wai-yin, Research Assistant Professor
A wireless headset with tuneable active noise control and sound equaliser functions, developed for dedicated applications. It comprises multiple features which can be adjusted to suit the needs of different users.
7. Sitting Light Volleyball and Its Functional Sports Garment
Principal investigator: Dr Leung Ka-man, Assistant Professor, Department of Health and Physical Education
Sitting light volleyball is developed to promote the physical and mental health of people with physical disabilities or older athletes. This garment solves limitations and movement restrictions during the exercise.