Partnerships
Thammasat takes part in driving Pattaya City to become UNESCO's creative city of cinema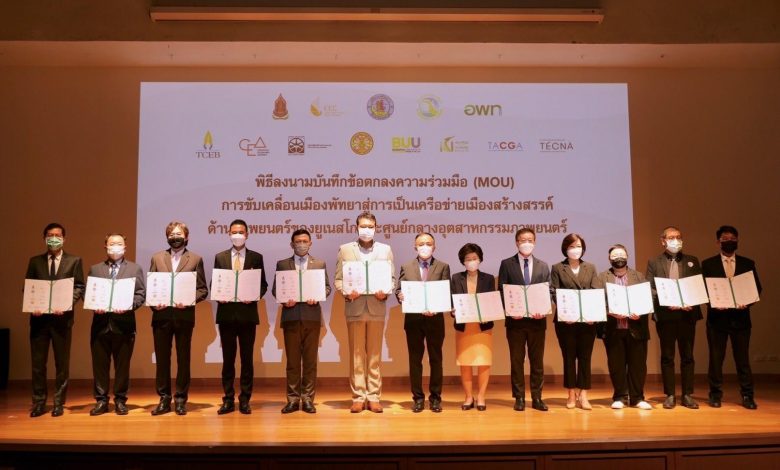 Assoc. Prof. Gasinee Witoonchart, Rector of Thammasat University participated in the signing ceremony of a Memorandum of Understanding (MOU) with the Designated Areas for Sustainable Tourism Administration (Public Organization) or DASTA, Office of the Permanent Secretary, Ministry of Culture, Office of the EEC Policy Committee, Pattaya City, Department of Tourism, Thailand Convention and Exhibition Bureau (Public Organization), Creative Economy Agency (Public Organization), Thai Film Archive (Public Organization), Burapha University, Federation of National Film Associations, Thai Animation and Computer Graphics Association and the Thailand Entertainment Creators Network Association to drive Pattaya City to become a UNESCO Creative City Network for Film and the center of the film industry.
In addition, DASTA has developed a plan to drive creative cities at the level of local authorities by organizing activities to raise awareness and foster greater engagement as part of the preparation in becoming a member of the UNESCO Creative Cities Network and focusing on capacity development that is in line with UNESCO's creative city development guidelines.
As for the Strategic Plan for the Development of Special Areas for Sustainable Tourism in Pattaya City and Connected Areas 2023 – 2027 in Pattaya City, it is an operation that is in line with the Pattaya City Development Master Plan in becoming a City of Film in 5 years (2022 – 2027) that focuses on promoting creative tourism in film by integrating cooperation with network partners to drive Pattaya City to become a creative city for film in order to create jobs, generate income and increase the potential of being a city for tourists.