Learning
Thammasat Students won the award for the awareness and fundraising plan for children suffering from cleft lip and cleft palate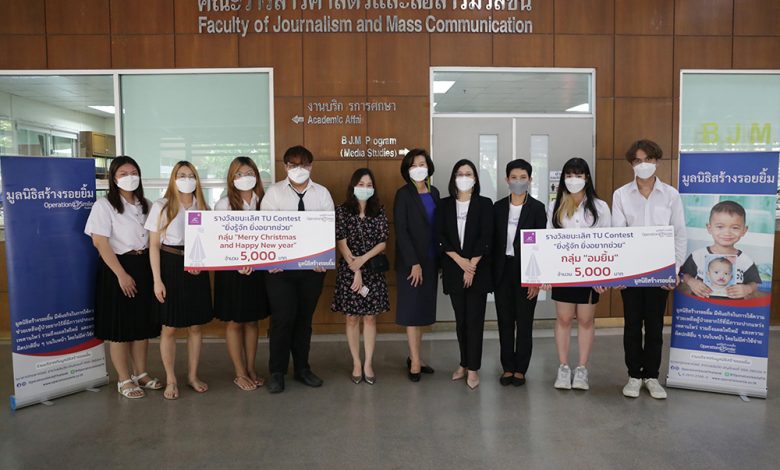 "Ohm-Yim (Smilingly) Team", a team of students from the Faculty of Journalism and Mass Communication, Thammasat University consists of Ms. Pornnaphat Tinamas, Ms. Suchanaree Saetan, Ms. Kanwara Yavichai and Mr. Naekin Wanthong, and the "Merry Christmas and Happy New Year Team" consists of Miss Kasira Tangkunaporn, Miss Natcharee Sooksawat, Miss Nichaporn Na Phatthalung and Mr. Thachanan Chankaewrae won the first prize of the "Awareness and fundraising plan" contest for the Smile Foundation. The winners of both teams will be receiving an internship opportunity at Dexer Bangkok.
Today, we have had an opportunity to interview one of the winning teams, the Merry Christmas and Happy New Year team. They mentioned that this awareness and fundraising plan arises from foreseeing the problem of fundraising from the COVID-19 pandemic and economic problems which affecting the amount of donations within the foundation to decline. Thus, causing the idea of ​​fundraising plans under the concept "Smile for hope, Going above dreams" through the "Smile for Hope" campaign with the idea that "Not only are children suffering from cleft lips and cleft palate deserve good fortune, but in the wake of the coronavirus and the economic woes that are making it harder for working-age people to live. Those who donate in turn, deserve hope and encouragement in their daily lives."
The "Smile for Hope" campaign is a campaign to raise funds for children with cleft lip and cleft palate with the main idea for the children in the foundation to be a part of giving through taking part in the design of various lucky charms, such as drawing and painting to be used as mobile wallpaper, and writing wishes and thank you message to be inserted into the Japanese Omamori amulet. Omamori is a small silk bag embroidered with beautiful patterns. The mouth of the bag can be opened. Inside, there are amulets made of paper and various incense to enhance good feelings, encouraging and providing hope to money donors amid the COVID-19 situation and economic downturn.
The team does hope that this campaign will be a part to help the foundation in becoming more reputed, and receiving donations that can be used to support a larger number of children. The team wishes to be another voice and allows people to realize that there are many children who have not been saved from cleft lip and cleft palate.