AppliedHE
Unpaid Internship: Ban them or accept them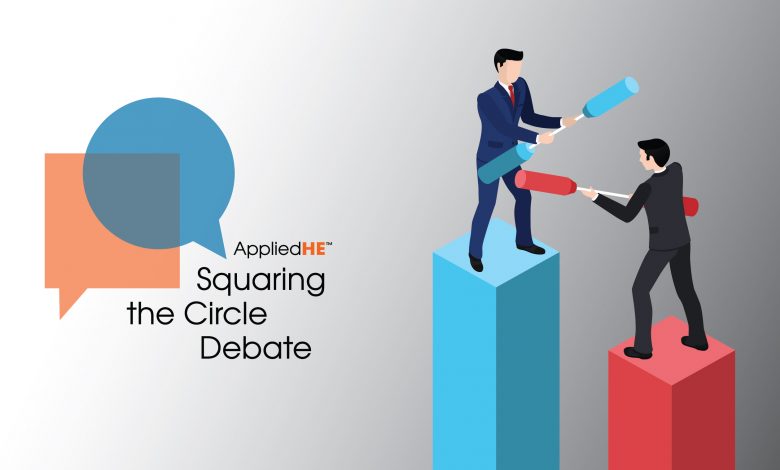 Across a wide-ranging slew of professions, unpaid internships are perceived as the only way to gain entry into a potentially-rewarding career. Bearing this in mind, there is the added complexity of the growing debate over the value of unpaid internships. Are they skewed towards being more useful or overly exploitative? And if the latter is true, should unpaid internships, therefore, be banned?
To resolve this interesting and pressing issue, AppliedHE organised a webinar with a diverse and seasoned panel of speakers. Proponents of the ban on unpaid internships Prof Judith Lamie, Pro Vice-Chancellor (International), Swansea University, United Kingdom and Dr Nico Jooste, Founding Member and Director of the African Centre for Higher Education Internalisation, South Africa were called upon to share their insights.
To skilfully oppose their views, AppliedHE requested the participation of Prof Perry Hobson, Director of Academy of Tourism, Breda University of Applied Sciences (BUas), The Netherlands and Prof Dr Mauritis van Rooijen, Chief Academic Officer, Global University Systems and President, University of Europe for Applied Sciences, Germany.
Prof Lamie had expressed her concern that unpaid internships were still practised. Citing an example from her recent experience she said, "We recently had a new kitchen done up at the house. We had workers doing their job. Dave the carpenter happened to have an intern with him. Dave was very good at his job, it was wonderful seeing him working with his young intern showing him how to deal with the client at their home, and taking pride in his job. The intern was being paid."
She continued to describe how difficult it is to secure your first job after leaving college, as employers want you to be qualified and gain some working experience. This could be done through an internship. An internship gives you the opportunity to gain valuable work experience in a profession that you have obtained your degree from. It ranges from a few months to a year. These internships can vary from basic tasks to overseeing major projects.
It is safe to say that interns are given more responsibility nowadays and that this distinguishes them from typical work experiences. The advantages of an internship include the chance to integrate and apply the knowledge you gained while pursuing your degree in a real-life, professional working environment. This, in turn, helps you test out practical aspects of what you have learned in college.
"All internships in the UK should be paid – that is my point here; unpaid internships are wrong. Legally, anyone who is defined as a worker should at least earn a minimum wage. Some companies might not pay interns a salary, but they do offer some sort of compensation. In some scenarios, however, you may not get paid for doing volunteer work," she stressed.
"It is not all about the legal requirements. You may take your role more seriously if you get paid; with money comes responsibility. Firstly, payment encourages responsibility and commitment, and secondly, it increases moral values. Thirdly, we all have bills to pay, very few of us can afford to work for free, so we should be paid for the work we are doing. Fourthly, it is better for the employer if you pay your intern. It shows that you care about your employees. And finally, for the employer, you may find a rising star among your interns," says Prof Lamie.
"We all want to be valued. That's why interns should be paid," she concluded.
Dr Nico Jooste continued to elaborate on Prof Lamie's argument and added that we must be clearer and more specific when talking about internships.
"I don't think volunteers should be viewed in the same light. In the South African context where students enter internships, some inequality may occur. If we don't force employers to pay for the internship, we may encourage such inequality. It is not fair that without paying them, companies are free to exploit interns, who possess new skills and enhance the company's business. A formal, paid internship will have a contract and this safeguards both the employer and the employee. When it is a paid internship, the responsibility goes both ways. The paid intern will feel a greater responsibility to deliver," he said
A survey conducted by USNews, concluded that 65% of those who had paid internships went on to secure jobs upon finishing their internships. In striking contrast, only 35% of unpaid interns managed to secure jobs after the internship. Based on this, I would say that internships should be paid.
With an opposing view, Prof Hobson stressed that when students are pursuing their degree, either the students pay for it, or the government pays for them.
"We have internships all the time, especially in our field of hospitality, and indeed many are paid. But hang on for a moment, should they be paid? We are not paying our students to sit in our classes. Many colleges run training restaurants and hotels. When they enter the workforce, companies need to invest enormous funds into these interns," he pointed out.
Many interns want to know more about the company and naturally, this is not something that can be immediately enumerated by the company. Some may want to know the inner workings of the company, or about the organizational culture or politics within the company. To pay them to do so, does not make sense.
So, the paid internships happen to have a narrow focus in terms of their job scope. Another salient point is that unpaid internships may allow people to explore more within the company.
Looking at the case of volunteering, many volunteering organisations take on interns, and they may not get paid whereas their management will be compensated. If we look across all types of internships, they may not be similar. For instance, some universities have unwittingly created additional problems for employees by reducing the internship period while some even offer so-called micro-internships.
"We may not get our students in there with enough time to contribute financially. It is easy to say that everyone should be paid, but we also must think about it from the employees' point of view and allow for internships to be available. So, some people may say it is discriminatory… well if it opens doors, why should we deprive students of that access? That is the reason why I am against the motion that students should get paid," concluded Prof Hobson.
Linking up to Prof Hobson's argument, Prof Maurits explained that since the definition of an internship is work experience, this does not fit into the belief that an internship should be paid.
"By reducing the number of internships only to paid ones, we will reduce the internship opportunities to many. Is that what we really need? Is that what we are proposing? The debate should be about substance, and the substance is you get good work experience and has nothing to do with pay," suggested Prof Maurits.
He continued further, "I am not against interns getting paid, but the question is, do you want to ban high-quality work experience just because it is not paying the intern? To me, work experience is about learning. And so, the real question is what they are learning and not how much they are paid. It is not a business relationship, rather than it is an educational relationship. And by turning a learning relationship into business, we may end up with just cheap labour."
Conclusively then, we have heard four experts voice their opinions on the issues of "Should we ban unpaid internships, or should we embrace getting work experience instead of focusing on financial rewards?" As it stands, this debate will be left undecided, for further, meaningful discussions as both opinions battle out the final answer.