Learning
Students from the Faculty of Science and Technology, Lampang Campus win the second runner-up at the "True 5G World of Smart Education with Temi Robot Bootcamp"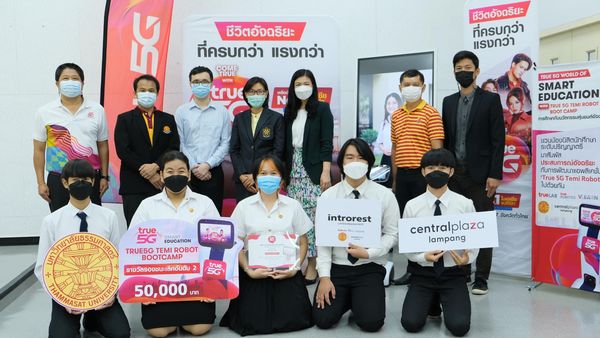 Introrest team led by Mr. Prapanpong Pianchan, Miss Wiraporn Rosmode, Miss Wilasinee Maithong, Miss Pornsawan Waisit and Mr. Thanapan Ton-ai, the third-year students in Computer Science, Faculty of Science and Technology, Thammasat University, Lampang Campus won the second runner-up with a prize money of 50,000 baht from Temi, the intelligent robot, "Introrest: Your Guide to Products and Services" at the "True 5G World of Smart Education with Temi Robot Bootcamp" which Dr. Krittakom Srijiranon is an advisor and Mr. Apisit Wongson, a fourth-year student, is an assistant student.
Mr. Takorn Nateyarak, General Manager of True Corporation Company Limited, Lampang Office is the award presenter where Asst. Prof. Dr. Worawan Diaz Carballo, Assistant Dean for General Management, Faculty of Science and Technology, together with Dr. Nattakorn Chuchuay, Assistant to the Rector for Administration and Academic Affairs of Lampang Campus, Asst. Prof. Pimchat Rossutham, Assistant to the Rector for Student Affairs and Corporate Communications, Lampang Campus, Mr. Arun Wongkhampuang, Director of Administration Division, Lampang Campus and Khun Penpassorn Tongsiri, General Manager of Central Plaza Lampang, participated in this ceremony.
True5G Temi Robot Bootcamp, is one of the projects where True Group uses the genius of 5G technology to create a digital ecosystem of university education for the sustainable goal, Smart Education Smart University, by delivering intelligent robots, True5G Temi Connect & Carebot, to 20 educational institution partners across Thailand.