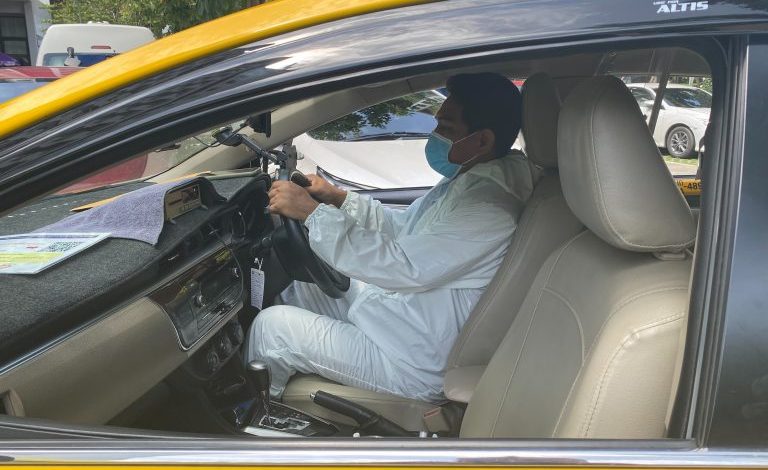 Thammasat University Hospital moved forward and helped COVID patients through the "TAXI Volunteers COVID Concern and Support" Project by wearing PPE and using screens when accepting-sending patients. Thammasat University Hospital did home isolations of more than 500 patients. Most of the patients were concerned about waste, wanted to build understanding in the community and wanted someone to talk to every day.
Prof. Dr. Surapon Nitikraipot, Chairman of the Executive Board, Thammasat University Hospital, spoke about a major problem for hospitals caring for COVID patients in the country, which is patient transportation for trips to the hospital, returning home, sending patients to the agencies involved or home isolations where some patients at home need to see a doctor to follow-up on symptoms and have travel limitations. The "TAXI Volunteers COVID Concern and Support" Project is the beginning of support with systems for preventing infections in order to provide good safety for drivers. This is a small matter of logistics in Thammasat's process to help patients with fees at normal rates. However, if patients have no money, the fees will be paid on their behalf.
"This project is a small encouragement to help make our system of care for patients more complete. I would like to thank supporters, and I believe this may be the beginning of logistical changes for patients in need. Patients need more support and this small mechanism will make our system more complete", said Prof. Dr. Surapon.
Dr. Kanitta Buranapansak, Head of Social Security, Thammasat University Hospital, stated that "The "Taxi Volunteers COVID Concern and Support" Project" is a project that builds on the "Fight COVID @ Pathumthani" Project, a project allied to the project to improve capacity of social workers, social care models and empower communities for social monitoring and management for patients and persons affected by COVID-19 supported by the Social Security Office. For nearly seven months, the project continues to move forward. The "TAXI Volunteers COVID Concern and Support" Project currently has six vehicles picking up patients and taking patents from home to hospital. Every taxi driver wears PPE and has screens in the vehicle for safety to give both driver and patient confidence. At the same time, social workers have found COVID-19 patients to have concerns about waste and need someone to talk to every day.
A professional nurse, Miss Nettip Booncharat, Deputy Director of the Home Isolation Coordination Center, revealed that 526 patients were being treated in the home isolation system, 130 patients had completed the project and more than 30 patients had severe symptoms with 271 patients remaining in the project. In addition to providing attentive care for patients via the Telehealth system, Thammasat University Hospital handed out self-care booklets with survival sets or isolation sets for children and adults complete with necessary equipment such as thermometers, fingertip oxygen measuring devices, waste sorting bags and medications for patients in the green group, including food delivery services.