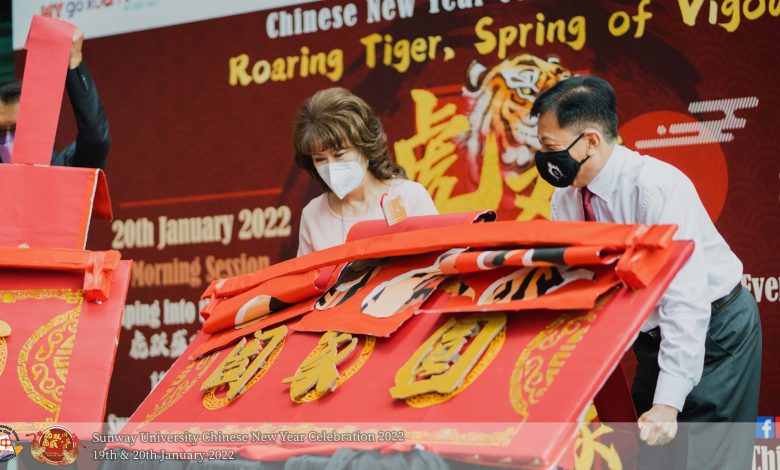 I was at the Sunway Pyramid Mall recently. Looking around, I couldn't help but think to myself, "We are returning to some sense of normalcy, as I get out of the security check queue for vaccination status and into the mall."
The mall was full of shoppers (fully masked, of course); decked out with Chinese New Year decorations to usher in the Year of the Tiger, with festive songs playing in the background (which added to the festive mood). After two years of on and off lockdowns and travel restrictions, this is truly a welcome sight and blessing in many ways (thanks greatly to the vaccines and being better informed on how to keep ourselves safe).
Prior to the pandemic, my husband and I would host our Sunway students at our home to experience Chinese New Year. I especially miss seeing our Sunway University, Sunway College, Sunway TES & Sunway International School, Malaysia international students in all their beautiful national costumes arrive in the Sunway bus and we would watch our muhibbah lion dance together. I miss feeding them with our family New Year cookies and listening to their cheers of delight while enjoying the lions. I miss those heartfelt moments of cultural sharing.
Thankfully, we were able to have a Chinese New Year celebration on campus (with a bigger one virtually in the evening), which was organised by our students from the Sunway Chinese Independent School Alumni Club. My heart goes out to our dedicated students for their love and passion despite facing the current challenges.
As we enter the year of the tiger, I'm reminded of the fascinating story behind how the tiger became one of the Chinese zodiac creatures. At a time when Earth which had been in turmoil, the tiger was said to have been sent by the Jade Emperor to restore order and bring peace. Thanks to its bravery, strength, persistence and determination (as well as never back down attitude), the tiger was successful in bringing stability back to the human world, the forest, and the sea. For its contributions, the Jade Emperor added a vertical line on top of the original three horizontal lines on the tiger's forehead, which means "King" in Chinese, and raised its status as one of the twelve zodiac animals.
In pop culture, tigers are usually affectionate, generous and bursting with vigour such as Hobbes of 'Calvin and Hobbes', where he is a stuffed tiger to all except Calvin. And then there is Tigger, the loving, friendly, rambunctious and overly energetic tiger, who is one of Winnie the Pooh's best friends with a great tendency for bouncing.
In the coming year, let us emulate these positive characteristics of the tiger in all that we do; fearless in facing the challenges, the pandemic and the ups and downs of life. Let us continue to serve, support and to live in harmony with our fellow human beings and all creatures as best we can. Let us also remember to be generous of heart and kind to those around us especially those who need help, and may we remain high-spirited and have an optimistic outlook to life as this is essential to a purposeful existence.
Tigers are also solitary creatures yet known to collaborate on hunts, to increase their chances of securing food and survival. While we too have been solitary during the pandemic, in our home and away from our families, we adapted, learned to live and work differently, and most of all, we survived. The spirit of #KitaJagaKita or We Care for Each Other was on display; a reminder that in our darkest moment, we are there for one another.
The past two years has also taught us the importance of family. Last year, because of the pandemic all my three daughters were back home for Chinese New Year. Despite the challenging and uncertainty of the pandemic, it played an important part in bringing my family together. And I was not alone in this, for many who had children studying or working overseas, their families too were brought closer together, many with the help of technology and Zoom.
Tiger years are said to be times of change. Hence, let us embrace change, for we now know that we can adapt. Our experiences, both good and bad, are what make us who we are. What we have been through is a wake-up call, we must reflect, re-evaluate and realign our priorities and our way of life. Indeed, we have all adapted throughout the past two years.
With the call now to have everyone get their booster shots, the outlook for the year at the moment seems brighter. Yet as I write this piece, the scourge of the Omicron COVID-19 variant looms large above us. Let us not allow ourselves to become complacent. Let us celebrate the optimism while adhering to SOPs to keep everyone safe.
Dr Elizabeth Lee, Chief Executive Officer, Sunway Education Group
Source: The Star
Photo: Sunway University