Research
IAU Inventors awarded patent for the prevention and treatment of Oral Infections Using Zirconia Autopolymerizable Resins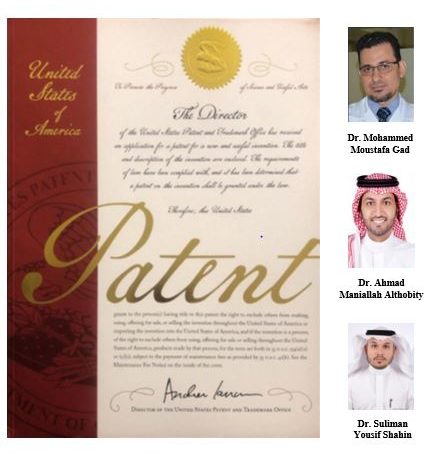 Denture stomatitis is very common inflammatory for complete-denture wearers.  This usually involves Candida Albicans species.  Researchers and inventors from the College of Dentistry did a research on new method that will prevent and treat denture stomatitis since it is the most common clinically important condition developing the mouth of denture wearers.
During the study, the three researchers and inventors from the College of Dentistry discover the effect of adding zirconia nanoparticles that was added to the autopolymerized acrylic resin is an effective method to decrease the Candida Albicans adhesion.
The Office of the Vice President for Innovation & Entrepreneurship with its Patent and Technology Transfer Office Team (PTTO) of Imam Abdulrahman Bin Faisal University (IAU) announced that the United States Patent and Trademark Office has issued US Patent Number 10,494,532 B2 entitled "Method of Preventing or Treating Oral Infections Using Zirconia Autopolymerizable Resins."
The patent describes an innovative project to evaluate the effect of zirconia nanoparticles added to autopolymerized acrylic resin on Candida albicans adhesion as new method for denture stomatitis prevention and treatment.  Due to the antifungal activities of PMMA/ZrO2 nanocomposite, the denture base has the ability to prevent or treat denture stomatitis.  In conclusion, all removable prostheses fabricated from autopolymerized acrylic resin could be fabricated using PMMA/ZrO2 nanocomposite with improved antifungal activities.
IAU congratulate their brilliant inventors and researchers from the College of Dentistry, Dr. Mohammed Moustafa Gad, Lecturer at Department of Substitutive Dental Sciences, Dr. Ahmad Maniallah Althobity, Associate Professor at Department of Substitutive Dental Sciences, and Dr. Suliman Yousif Shahin, Assistant Professor at Department of Preventive Dental Sciences, for their successful accomplishments that give pride to Imam Abdulrahman Bin Faisal University.
Review & Edited by: University Ranking Department