Research
Anti-cancer Azole Compounds by IAU Scientists awarded US Patent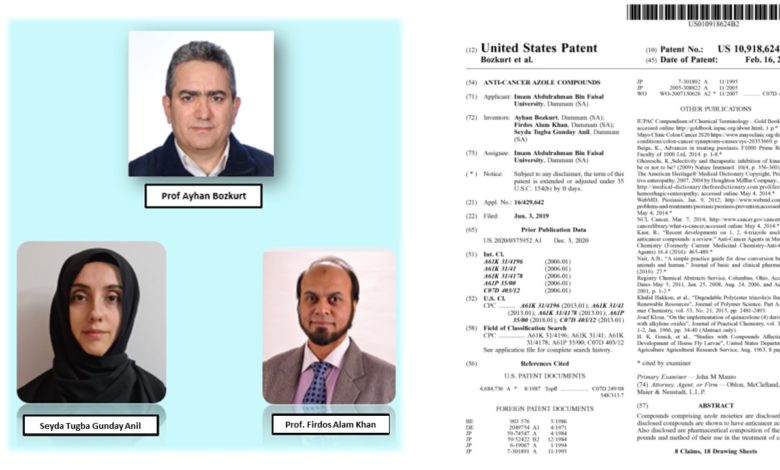 The scientists from Imam Abdulrahman Bin Faisal University (IAU), Saudi Arabia has invented various azole terminated oligomeric structures showing strong anti-proliferative activities.
Based on the research studies and findings of Professor Dr Ayhan Bozkurt from Department of Biophysics, Professor Dr Firdos Alam Khan from Department of Stem Cell Biology and Lecturer Seyda Tugba Gunday from Department of Biophysics at Institute for Research and Medical Consultations (IRMC) of IAU.
Their study revealed that azole derivatives showed promising results in inhibiting colon cancer cells' growth and proliferation in a dose-dependent manner where higher dosages caused a significant cancer cell death.
The compounds comprising moieties are disclosed. The disclosed compounds are shown to have anticancer activity. Also disclosed are pharmaceutical composition of the compounds and method of their use in the treatment of cancer.
A novel approach to selectively target the cancer cells.
The patent was filed on June the 3rd, 2019 and awarded, by the United States Patent and Trademark Office with the number US 20200375952 A1, on December the 3rd 2020 through Imam Abdulrahman Bin Faisal University, Saudi Arabia.
Review & Edited: University Ranking Department