Learning
UM's MOOC in creativity selected among the first batch of national first-class undergraduate course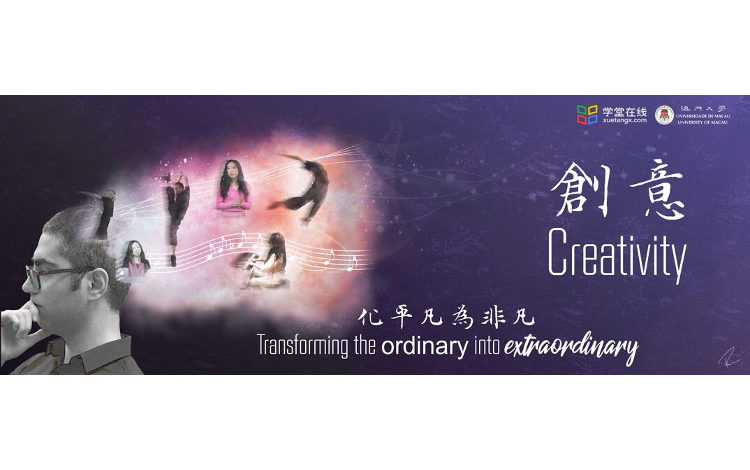 UM's first massive open online course (MOOC), titled 'Creativity', has been recognised by the Ministry of Education of China as a national first-class undergraduate course. Of the 3,560 courses across the country that made the list, 717 are online courses. UM's 'Creativity' course is the only online course from Macao to receive the recognition.
Prof Michael Hui, vice rector of UM, believes that online teaching is gaining popularity, adding that UM adopts a hybrid approach to teaching, which is a mix of traditional and online teaching, in order to increase classroom interaction, stimulate students' interest in learning, and improve the quality of teaching at UM.
Prof Katrine Wong, the person in charge of the course, who is also the director of UM's Centre for Teaching and Learning Enhancement and an associate professor in the Faculty of Arts and Humanities, says that the Ministry of Education's list of national first-class undergraduate courses includes courses from leading universities in China, and UM's inclusion on the list shows recognition of the efforts of the teaching team. She adds that the team will continue to adopt a learner-centred approach, enhance teaching and learning on campus, and move beyond the traditional modes of teaching, in order to help students become more active and creative participants in the learning process.
The MOOC 'Creativity' team is comprised of Prof Katrine Wong, Assistant Professor Davood Gozli in the Faculty of Social Sciences, and Prof Michael Li, a former  assistant professor in the Faculty of Education. The course aims to help learners explore creativity through a series of instructional videos, multiple-choice questions, and interactive learning activities. Since its launch on the XuetangX platform in September 2018, the course has run four times and has attracted more than 24,000 learners from around the world.
In addition, the instructional videos in the course have been incorporated into a general education course at UM, titled 'Creativity for the 21st Century'. Teachers can upload videos to the UM Moodle platform before class for students to watch in advance. Using pre-recorded instructional videos can facilitate self-learning and improve classroom interaction.
Read full article at University of Macau
Photo credit: University of Macau