Partnerships
UM, SPIC collaborate to promote technology transfer in smart energy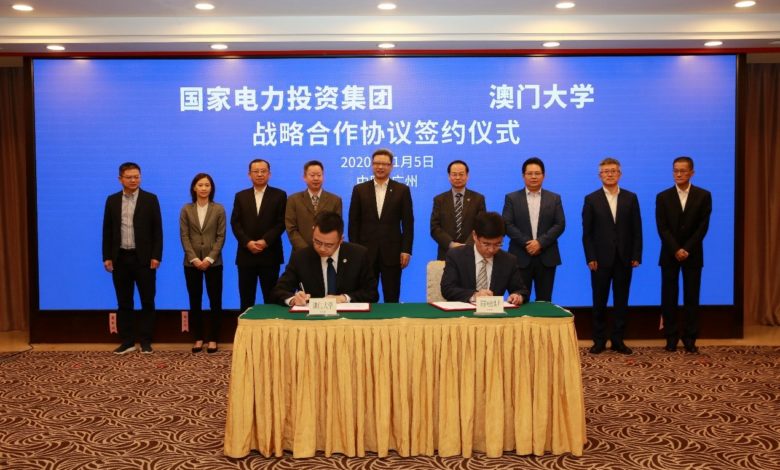 The University of Macau (UM) and State Power Investment Corporation Limited (SPIC) recently signed a strategic collaboration framework agreement. The agreement aims to promote technological innovation and the commercialisation of research results at the university, enhance SPIC's capacity for independent innovation and core competitiveness, and promote the joint development of both parties. The collaboration will make full use of UM's strengths in technology, talent, information, and research results, as well as SPIC's advantages in the field of clean energy.
The agreement was signed by Li Jianwei, SPIC's director of technological innovation, and Yang Zhixin, director of UM's Research Services and Knowledge Transfer Office. The ceremony was witnessed by UM Vice Rector Ge Wei and SPIC Party Secretary and Chairman Qian Zhimin, According to the agreement, both parties will carry out comprehensive collaboration in the areas of smart energy, the internet of things, and talent cultivation and exchange.
At the ceremony, Ge shared the development of the university. According to him, UM has been actively building a platform for technological innovation and industry-academia collaboration. The university adopts a problem-oriented approach and focuses on supporting cutting-edge research projects with local characteristics that can meet the needs of the country. UM attaches great importance to its collaboration with SPIC, which will help to accumulate experience and provide a model for the creation of an integrated smart energy system in the Guangdong-Hong Kong-Macao Greater Bay Area as well as countries included in China's Belt and Road initiative. Through this collaboration, both parties will explore the possibility of establishing a national research institute for smart energy to deepen collaboration between Macao and Hengqin in the field. If the institute is successfully established, both parties hope to gradually develop it into an international centre for technological innovation.
According to Qian, SPIC will explore new energy forms that are clean, safe, efficient, and with lower carbon dioxide emissions, to promote sustainable development of the Greater Bay Area.
Read full article at University of Macau
Photo credit: University of Macau