Leadership
UM scholar elected fellow of Royal Society of Chemistry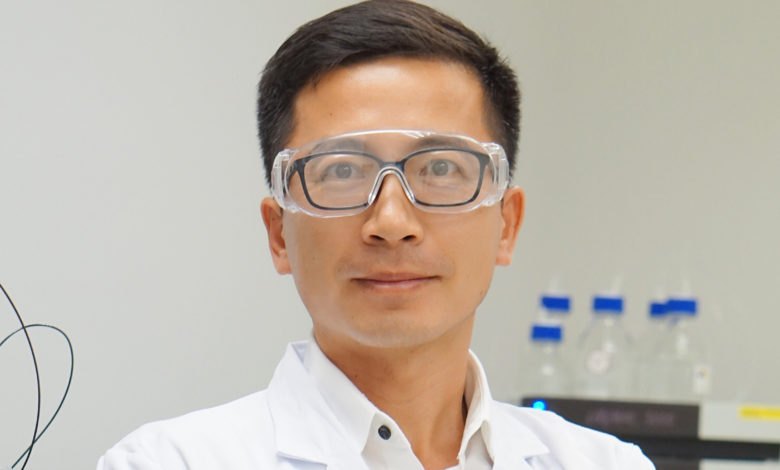 Wang Ruibing, an associate professor in the Institute of Chinese Medical Sciences (ICMS), University of Macau (UM), has been elected a fellow of the Royal Society of Chemistry (RSC) in the United Kingdom, for his distinguished contributions to chemical science and biomedicine as a professional chemist. Prof Wang is the second scholar at UM to receive this honour. Founded in 1841, the RSC is one of the most influential academic societies in the world.
Prof Wang's research group works on supramolecular medicine/biomaterials based on macrocyclic molecules and synthetic/natural drugs for the diagnosis and treatment of inflammatory diseases, cancer, and infectious diseases. The researchers have developed a series of supramolecular drugs, as well as nanodrugs and biomimetic drug delivery systems derived from supramolecular systems, by taking advantage of the unique properties of macrocyclic molecules as both active ingredients and excipients. Their research findings have led to a number of filed patents and many peer-reviewed articles published in top-tier journals, including Nature Communications, Materials Today, Journal of the American Chemical Society, Angewandte Chemie International Edition, and Matter.
Prof Wang joined UM in late 2014 as an assistant professor in the ICMS and was promoted to associate professor in 2019. He has a multidisciplinary background and rich experience in the fields of supramolecular chemistry, supramolecular biomaterials, radiopharmaceuticals, and molecular imaging. His main research interests include supramolecular medicine, supramolecular biomaterials, and biomimetic drug delivery systems. Since joining UM, Prof Wang has received six important external grants, including two from the National Natural Science Foundation of China (General Programme) and four from the Science and Technology Development Fund of Macao. His academic achievements have been recognised by several prestigious awards, including the Macao Science and Technology Award in 2018 and 2020, as well as the China Macrocyclic Arenes and Supramolecular Chemistry Rising Star Award in 2019. He also received the title of 'Chinese Periodic Table of Young Chemist' in 2019. He and his research team have published 160 peer-reviewed papers in SCI-indexed journals, with a total citation frequency of over 3,900 and an H-index of 35. Not only is Prof Wang an accomplished research scientist, he also excels in teaching and won the UM Teaching Excellence Award in 2019.
The State Key Laboratory of Quality Research in Chinese Medicines (SKL-QRCM), of which Prof Wang is a key faculty member, has received various academic awards, including China's State Science and Technology Award and the Macao Science and Technology Award. As one of the key research institutions at UM that receive priority, the lab has considerable academic influence in the Guangdong-Hong Kong-Macao Greater Bay Area and beyond.
Read full article at University of Macau
Photo credit: University of Macau