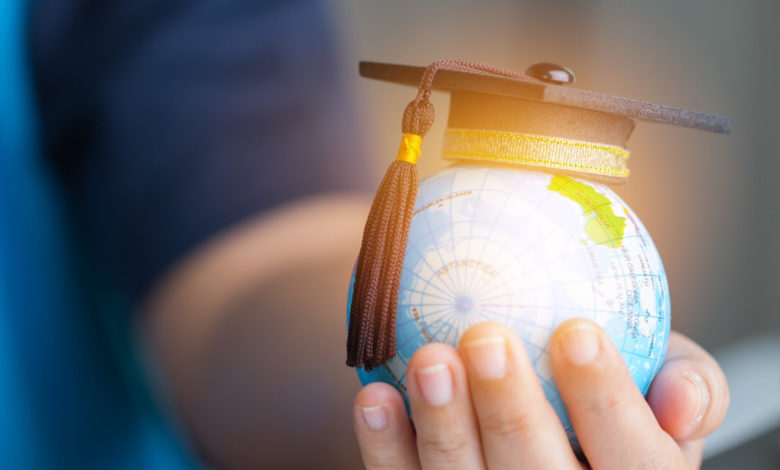 The current paralysis of globalisation has never been witnessed in written history and certainly not by global emergencies such as major wars in fact globalisation was arguably accelerated by the two major world wars of the 20th century which witnessed large movements of people and products at unprecedented scales around the world.
Many of our generation of university colleagues involved in the international outreach of universities have always assumed that globalisation is an inevitable force and the internationalisation of universities an undisputed part of this increasing porosity across national barriers.  However, there are many problems with this assumption.  Universities are not like globalised companies that can move their headquarters, supply bases and workforce wherever suits them. Universities are almost always tied into their national environment through a network of dependencies such as funding and regulation.  They may well establish bases overseas, but these come at enormous cost to universities and are almost always subservient to their home base.  Threats to mobility therefore strongly threaten universities' claims to being global in outlook.
The barriers to internationalisation of higher education long predate COVID-19 and were rising before this extraordinary crisis froze global mobility in its tracks.  The last few years have witnessed the resurgence of national frontiers as the 'war on terror', the rise of populism and protectionism threw spanners in the free flow of people and ideas across borders.  We see these barriers in many forms. The more visible are stricter visa regimes; taxes; health requirements as well as concerns of censorship in many countries we deal with on a daily basis.  But there are many more less visible barriers such as the increasing prevalence of cautious risk assessment which has taken hold in universities as a prerequisite for any international trip or student exchange or a more intrusive regulation of higher education delivered through transnational means, which has tended to homogenise the offer and stultify creativity.
While travel has been dramatically impacted and reduced, as a result of Covid-19, engagement and interaction has increased.  Increased constraints surrounding student mobility have led to an increase in domestic action and activity and with increasing concerns over borders, identity, freedom of movement and treatment abroad, the future of international exchange and movement is perhaps in doubt. Internationalisation at home has long been an issue however and perhaps, this is where the resilience and sustainability of internationalisation lies.  When faced with crisis, adaptation is necessary, but there is also an opportunity for reflection and review of what is at the core of internationalisation; what it means, and how it can best be sustained.
A major change during the pandemic was the use of, and indeed reliance on, online communication.  There have long been issues with the use of online teaching and learning, ranging from access, equity, capability, pedagogy and formal recognition.  Within a period of roughly 24 hours, the education sector went from viewing online learning suspiciously to wholeheartedly accepting it as an equal form of teaching and learning. While this is somewhat misguided, it does demonstrate an ability to adapt and evolve.  Online learning has provided opportunities for international interaction; marked an increase in online course offering; and seen a plethora of free content and webinars offered – usually across multiple locations and time zones – all of which work towards supporting and promoting internationalisation.
But if there is one thing that we have learnt from the current COVID-19 crisis, and from our responses; if there is one thing that we realise we cannot do without, it is each other. The situation has brought home to all of us the power and the pivotal need for cooperation, collaboration, and partnership – all at the very heart of any definition of internationalisation. Yes, most of us have become, literally, more locked into our local environment. We may not be travelling as much or as far; we may not have been able to physically meet, but we have found other ways to compensate for that, in the short term. People will always need to be mobile. There will always be the need for physical travel, for physical real-time interaction in a shared environment, but we may in some situations do this less often and avail ourselves of the marvellous digital opportunities in front of us, albeit not all of us.
There has been perhaps an inequality perceived within internationalisation. That for education it is about a weaker partner being helped and assisted, or controlled, even exploited, by a more dominant one. No doubt this has not been the case with many international collaborations and TNE activities, but COVID-19 has highlighted to us all that importance is a word that we should not apportion lightly. Who have we needed at this time of crisis? What have we needed? Who has been important to us? Yes, the top researchers are vital as they work, across their national and international boundaries, on a vaccine for the human race – not a small act – but so too are the doctors, the nurses, the shop workers, the fruit pickers, the waste disposers.
There is still an appetite for internationalisation, as evidenced by student numbers and continued pathways of recruitment.  These are shifting however, accelerated by the pandemic, but perhaps part of a natural evolution of movement, as nations strengthen their domestic offerings and establish alternative partnerships.  When we take into consideration the percentage of students who actually move to take part in international higher education, it is a fraction of the total student body.
Many of the values we seek to encourage in our students as they move to be global citizens are values of empathy towards others, the desire to learn more about the world and to work together to combat the challenges of our world, values that are at the heart of internationalisation. In this age of ongoing global crisis, we need more than ever to embrace these values.
The timeline that we thought we had twelve months ago has shifted. The future is uncertain, but there is a future. Internationalisation is not dead, but it must shed its old skin and look to new avenues for engagement so that it may continue to anchor itself in our new normal and retain its rightful place as a powerful and influential agent for sustainability and change.
Authors
Professor Judith Lamie PhD, Managing Director, JL Education Consultants Ltd and Chair, Navitas Board of Directors
Dr Tim Gore OBE, Chief Executive Officer, University of London Institute in Paris
Dr Christopher Hill, Associate Professor, Faculty of Education, The British University in Dubai