Leadership
First time in history a Kazakhstani expert is elected into the PRME Board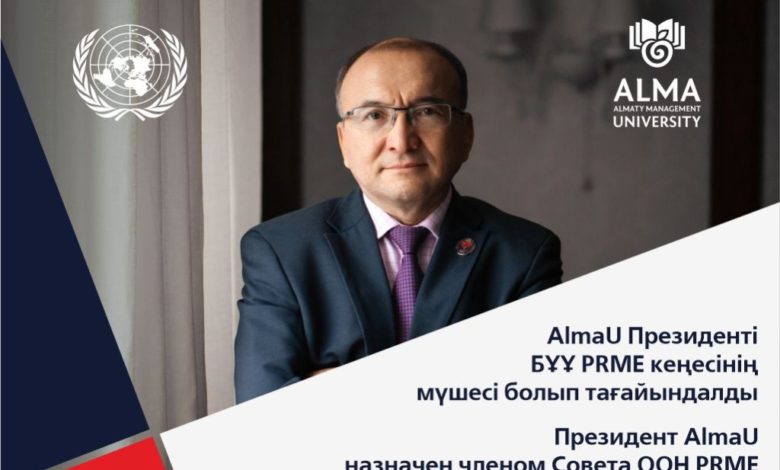 In mid-June 2020, President of Almaty University Management (AlmaU) Kozhakhmetov A.B. was elected into the UN PRME Board (United Nations Principles for Responsible Management Education) aimed at the development of the the UN Global Compact on the Principles of Responsible Management Education.
Kozakhmetov A.B. is also Vice President for Central Asia of the International Association for Management Development in dynamic societies CEEMAN (headquartered in Slovenia), President of the Civic Alliance of Kazakhstan and a member of the National Council of Public Trust of Kazakhstan.
PRME is a United Nations initiative implemented since 2007. The six principles of PRME represent the implementation of the UN Sustainable Development Goals (SDGs) and corporate responsibility in educational and research programs, the involvement of businesses and countries in educational activities, and the development of talented students – leaders and agents of the future change.
More than 800 universities around the world support this initiative. Kazakhstan is represented by three universities. The longest-standing signatory in Kazakhstan, Almaty Management University (AlmaU), has been developing cooperation with the PRME Secretariat on global engagement and development issues in responsible governance since 2009, and publishes PRME commitment reports available on the UN PRME website.
The PRME Council develops strategic and policy recommendations to develop the PRME initiative and advance vision, which is used by PRME, UN Global Compact signatories and other stakeholders. This year, the prME Board members are the heads of the world's leading universities and educational expert associations: INSEAD Business Schools (France), Ivey (Canada), Cologne (Germany), Wollongong University (Australia), Peking University (China), Asian Institute of Management (Philippines), MBA Association (UK), UNESCO, UN, etc.
Almaty Management University puts social responsibility as one of the fundamental principles of its activities. AlmaU is also a signatory to the UN Academic Impact initiative, reaffirming its commitment to UN goals. AlmaU's influence and achievements are assessed for the second year in a row by the international rating agency Times Higher Education (THE) in the Impact ranking. CEEMAN, the International Association for Management development in dynamic societies, awarded AlmaU with the CEEMAN Champions Awards in Institutional Governance in 2014 and Responsible Management Education in 2017.