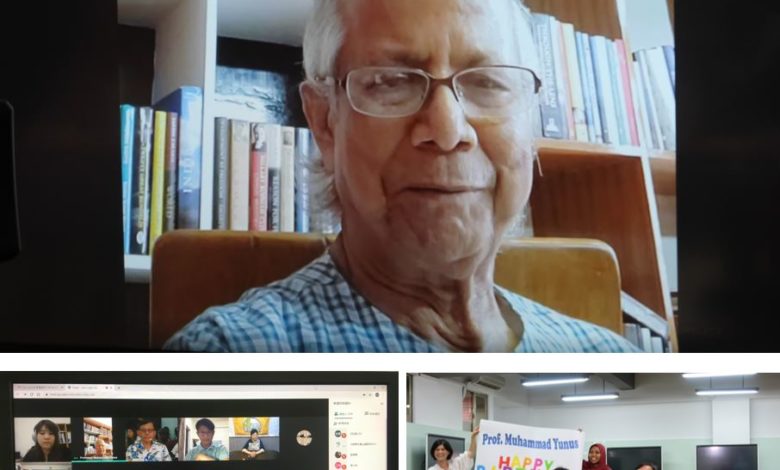 The Yunus Social Business Center at Chang Jung Christian University (CJCU) hosted an international webinar on post-Corona issue on June 23 with Dr. Muhammad Yunus who was awarded the Nobel Peace Prize 2006. The meeting was presided over by the President of CJCU, Dr. Lee, Yung Lung. The webinar participants came from several countries, including Taiwan, Bangladesh, Malaysia, Thailand, Indonesia and Africa.
The theme of the webinar is "No Going Back." Dr. Yunus indicated that the Covid-19 pandemic has attacked our life and changed our world, but it also makes us rethink our life and our world. It gives us a good opportunity to start thinking about what kind of world we want to live in the future and how to create it. Should we go back to the world before Covid-19? Social business can play a central role in reconstructing the post-Corona world, Dr. Yunus said in the webinar.
Before ending the webinar, all webinar participants expressed birthday greetings to Dr. Yunus for his coming birthday.
To promote Dr. Yunus' concept of social business, CJCU has established the Yunus Social Business Center (YSBC) in 2017, cooperating with Yunus Centre in Bangladesh and Foundation for Yunus Social Business Taiwan. The YSBC at CJCU upholds the principles of Dr. Yunus's social business to advance the development of social business, cultivate social innovation talents, stimulate research on social business, and implement university social responsibility as well as sustainable development goals.
Furthermore, CJCU has founded a social business, ARK beautiful life company, based on Dr. Yunus's principles to provide social innovation training for students. CJCU also integrate the idea of social business into the professional courses of International Programs in different majors, including environmental sustainability, international business and MBA, attempting to train students to become international talents with social innovation and sustainable development thinking.