Research
38 EdUHK Scholars Named World's Top 2% Scientists by Stanford University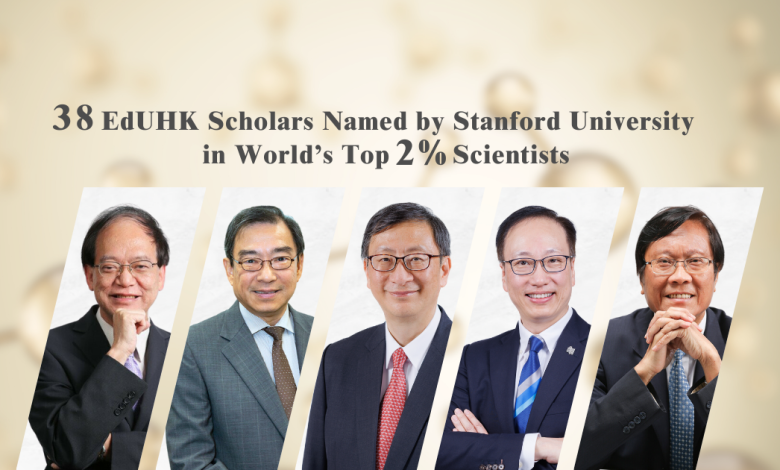 Thirty-eight scholars* of The Education University of Hong Kong (EdUHK) were named among the top 2% most-cited scientists in the world, in the latest annual rankings published by Stanford University.
Among them were new President Professor John Lee Chi-Kin, who assumed the position last month; Vice President (Research and Development) Professor Chetwyn Chan Che-hin; Advisor and Adjunct Chair Professor (Geography & Environmental Science) Professor Jim Chi-yung, Advisor (Environmental Science) Professor Wong Ming-hung; and Professor Rudolf Wu Shiu-sun, who has invented 'artificial mussels', an effective tool that can monitor radioactive contamination in waters around the world.
Compiled by a research team at Stanford University, the rankings list top scientists from a wide range of fields, based on their career-long citation impact or single-year citation impact in 2022.
EdUHK scholars fared well in their respective fields. Notably, Professor Jim Chi-yung, also known as 'Dr Tree', ranked first out of over 30,000 scholars in the field of forestry, representing the high citation rate and significant impact of his research output. Professor Wong Ming-hung from the Department of Science and Environmental Studies also ranked 8th out of nearly 100,000 scholars in environmental sciences.
In addition to research capacity and impact, the University has also secured record-high funding of over HK$27 million under the annual Research Grants Council's General Research Fund and Early Career Scheme. Once again, EdUHK came first, in the discipline of education, both in terms of the number of funded projects and amount awarded. The University has also made significant strides in various disciplines, such as psychology and linguistics, further underscoring its solid foundation in broadening academic scope beyond education.
Congratulating the EdUHK team, President Professor Lee said, "The University has made great strides in research in education and various emerging disciplines, as illustrated by its remarkable achievements over the years. To further extend our research impact in Hong Kong and beyond, we have established two new Academies, namely the Academy for Educational Development and Innovation and the Academy for Applied Policy Studies and Education to better promote interdisciplinary research with greater synergy."
*As of October 2023
Learn more: https://www.eduhk.hk/en/features/38-eduhk-scholars-named-world-s-top-2-scientists-by-stanford-university