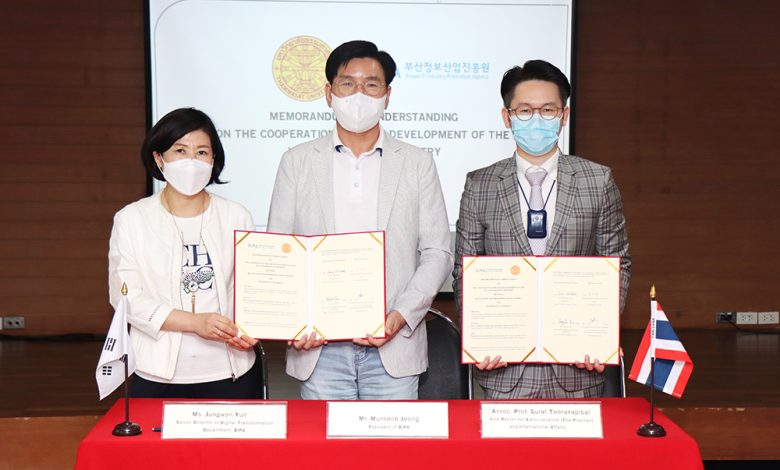 Thammasat University signed a memorandum of understanding with Busan IT Industry Promotion Agency (BIPA), South Korea. This will be part of the collaboration to develop a new learning platform in the virtual world for students and the public under the Thammasat Metaverse project at the Faculty of Liberal Arts building, Thammasat University, Tha Prachan Campus.
Assoc. Prof. Dr. Surat Teerakapiban, Vice President for Administration and International Affairs, Tha Prachan Campus, Thammasat University revealed that at the beginning of 2022, Thammasat University has opened its fifth campus in the virtual world "Thammasat Metaverse Campus". It brings the world's modern technology like "Metaverse" to develop a platform to connect education, business, and activities that will be open to students and the general public. According to the original intention of Thammasat University to be an open university for everyone since 88 years ago.
Assoc. Prof. Dr. Surat said that the new campus in this metaverse has been designed to meet the needs of various areas, including 1. Immersive Learning Classrooms, elevating the new curriculum experience that is more advanced than the original version of online learning or even in-class learning 2. VR Museum of History, Culture and Democracy, museum for learning long history, culture and democracy of Thammasat University through the use of Virtual Reality (VR).
3. Next Generation Omnichannel Marketplace, an online marketplace for trading and purchasing products along with convenient and efficient payment channels.
4. 88 Sandbox Spaces, a startup business incubation project that allows students and the general public to pitch their works as well as meetings and sharing ideas together with mentors, and the latest addition that has been prepared is
5. Metaverse Health Center, a hospital that will provide health services in the virtual world.
Assoc. Prof. Dr. Surat said that for the development of the Thammasat Metaverse Campus located on the T-Verse platform, until now, the architectural structure of various parts has already been designed which is in the process of system testing and developing a security system and identity verification processes, which is expected to begin to actually open to the public in about the next 3 months. In terms of cooperation with BIPA, it will help expand the potential knowledge support as well as funds to further develop this platform.
"For many years, we have all faced the effects of the COVID-19 crisis. The teaching and learning system had to be adjusted to a 100% online format, causing people to lack interaction with each other. Metaverse is about to take the teaching and learning experience to the next level. It gives students the opportunity to interact, meet each other in this virtual world. Thammasat University is also becoming one of the first educational institutions to develop a full Metaverse, BIPA itself is therefore interested and so prepare to cooperate and enhance the potential between each other." concluded Assoc. Prof. Dr. Surat.