Leadership
Thammasat University Hospital opens the only one-stop-service "Joint Replacement Center" in Southeast Asia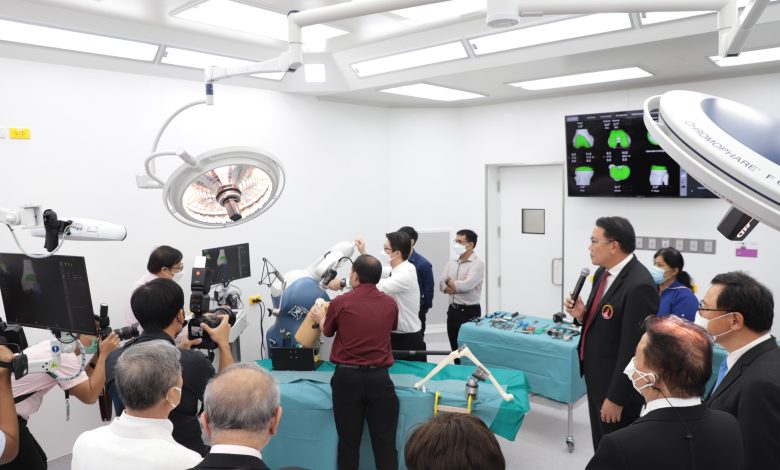 Thammasat University Hospital opens the "Thammasat Joint Replacement Center", the only one-stop-service center in Southeast Asia, upgrading its expertise in knee and hip replacement. It highlights three main benefits of delivering seamless treatment, increasing the accuracy of the surgeons with the assistance of robotic arm technology and innovations to relieve pain throughout every stage of the surgery under the supervision of a team of medical professors and personnel, and offering the services at an affordable rate. It can also increase the surgical capacity from 1,000 at present to 5,000 replacements per year. This will allow the center to provide services to Thai and foreign patients in the region as it aims to develop the center as a Medical Hub in Asia.
Assoc. Prof. Dr. Pharuehas Tor-Udom, Director of Thammasat University Hospital, said that "Thammasat Joint Replacement Center" is one of the projects that focuses on excellent and state-of-the-art surgery. The three highlighted benefits include (1) Modern technology using surgical robotic arms to improve accuracy, reduce damage to surrounding tissue, and provide globally-recognized innovations to relieve pain before, during, and after the surgery. This will help improve the patient experience, ensure a quick recovery time of 2-3 days, and reduce patients' concerns about surgery pain; (2) provide supervision from a team of interdisciplinary medical professors and specialists; and (3) provide an affordable rate. Marked as the first one-stop-service joint replacement center in ASEAN, the center can increase the surgical capacity from 1,000 to 5,000 replacements per year, with a plan to further develop it to be a Medical Hub for patients in Asia.
"Thammasat Joint Replacement Center is located on the 2nd floor of Dulasophak Building, Thammasat University Hospital. It provides a one-stop service with a team of specialists, nurses, and personnel who are prompt to take care of patients before, during, and after the surgery.
The robotic arm technology enables surgeons to perform the surgery with better precision, using computerized tomography with a 3D model of the joints. This can reduce errors in positioning the implants in the precise spot and cause less pain after the surgery. However, every surgical patient is different. Such technology will allow the surgeons to develop a customized plan to fit each patient's unique anatomy, including determining the implant size and measuring soft-tissue balance. It also helps deliver a 2-3 times better result, quicker recovery, and shorter hospitalization time. Based on research studies, robotic arm technology can increase positioning accuracy and precision by up to 3 times more than conventional replacements by 50%. Patients will experience less pain during the first 90 days after surgery and can resume their normal activities, and improve their quality of life."
For more information, please contact Thammasat Joint Replacement Center, via phone call at 0-2926- 9260 or 0-2926-9360 during government office hours.