Partnerships
NUS and University of Malaya rekindle longstanding and resilient ties post-pandemic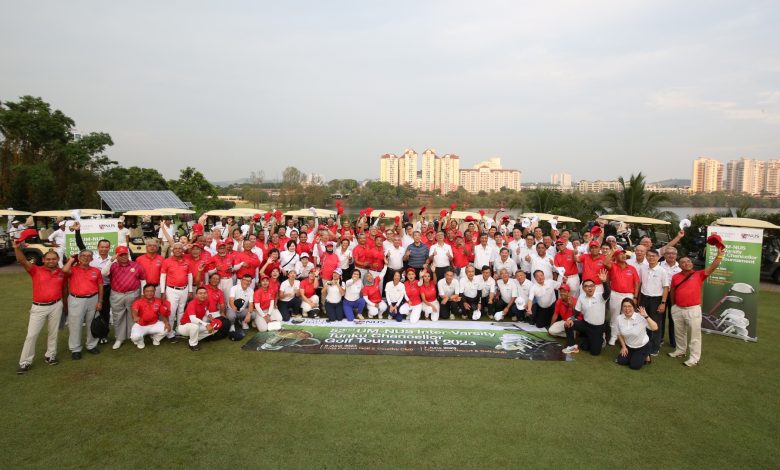 NUS celebrated and reaffirmed the strong and longstanding ties with the University of Malaya (UM) at the 52nd UM-NUS Inter-University Tunku Chancellor Golf Tournament held on 6 and 7 June 2023.
Hosted by UM Chancellor, His Royal Highness Sultan Nazrin Muizzuddin Shah, the Sultan of the state of Perak, at The Mines Resort and Golf Club in Kuala Lumpur, Malaysia, the tournament returned for its 52nd iteration this year. The gathering was made more meaningful as it was the first time the tournament had been reinstated after a three-year absence due to the COVID-19 pandemic.
NUS Chancellor and Singapore State President Madam Halimah Yacob attended the tournament on the invitation of the Chancellor of UM, accompanied by officials from the President's Office and NUS. NUS President Professor Tan Eng Chye met his counterpart, Vice Chancellor of UM Professor Dato' Ir. Dr. Mohd. Hamdi Abd. Shukor, at the event. Mr Shivakumar Nair (NUS Law alumnus, Class of 2001), Deputy High Commissioner at the Singapore High Commission in Kuala Lumpur was also present.
Speaking at the official dinner reception held at the St Regis Kuala Lumpur in conjunction with the tournament, Prof Tan remarked on the close ties between NUS and UM. "The special relationship between NUS and UM remains steadfast and endures, even in a world of change, uncertainty and disruption," Prof Tan said.
"We have a shared history, a strong bond, and a commitment to our partnership that extends beyond academics and research; there is our camaraderie, familiarity and fellowship," he added.
Prof Tan also expressed his hopes to strengthen ties with UM in the areas of innovation and student entrepreneurship, such as through the expansion of the NUS Overseas Colleges (NOC) within the region, as well as the NUS Enterprise Summer Programme in Entrepreneurship.
Read more & Photo Credit : NUS News