Partnerships
Thammasat, Lampang Campus announces its intention to cooperate with 53 government agencies and the private sector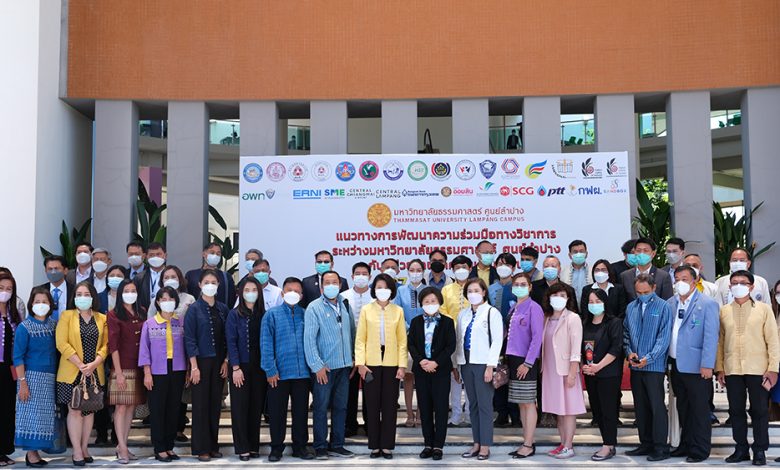 Thammasat University, Lampang Campus led by Assoc. Prof. Gasinee Witoonchart, Rector of Thammasat University, Assoc. Prof. Dr. Phipop Udon, Vice Rector for Academic Affairs, Assoc. Prof. Dr. Supreeya Kaewla-iad, Vice Rector for Lampang Campus Administration and Law along with the university administrators, faculty administrators, and faculty members, jointly discussed with the heads of government agencies, heads of both public and private agencies to find ways to develop academic cooperation between Thammasat University, Lampang Campus, government, and private agencies in order to join in the integration of knowledge and resources in various fields between government agencies and the private sector by building a network of partners to exchange academic knowledge which covers both research, academic activities, academic service to society collaboration on issues of interest according to the identity and prominence of the organization as well as cooperation in other fields that will benefit agencies, communities and society in a sustainable way.
In addition, Thammasat University and Lampang Provincial Administrative Organization also agreed to prepare a memorandum of understanding for collaboration in academic activities such as joint research, special lectures and international academic conferences, promote academic exchanges and cooperation that are beneficial to both sides. This memorandum of understanding will serve as a framework for cooperation to facilitate further discussion of specific project cooperation.
As Thammasat University, Lampang Campus is part of Lampang Province and the policy of the university focuses on developing people's potential to be the driving force of the country's economy. Thammasat University has designed the curriculum in parallel with the emphasis on the strengths of Lampang Province to strengthen people in the area and Lampang Province which will impact Thailand in the end. Thammasat University, Lampang Campus will be an important mechanism for human potential development to be the driving force of the country's economy along with the development of local communities. This is a great way to promote Thailand's economic development in the future.