Partnerships
Belgian Ambassador Ignites Unity, Cultural Exchange and Academic Collaborations at UTM Ambassador Global Lecture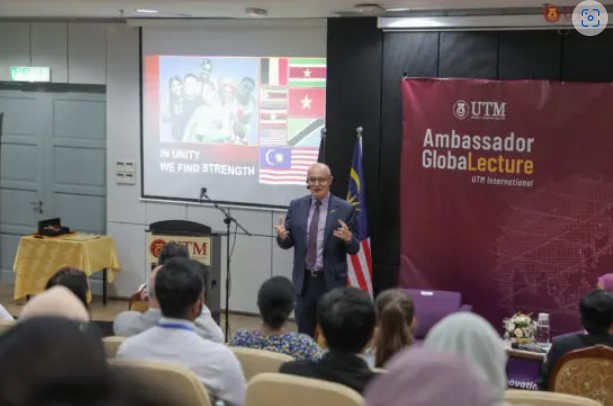 His Excellency Mr Peter Van Acker, Ambassador of the Kingdom of Belgium to Malaysia, endeavoured an intellectual discourse entitled "In Unity, We Find Strength" at the Ambassador GlobaLecture, a signature global lecture platform for Ambassadors in Malaysia hosted by UTM International.
The session was moderated by Professor Dr Nor Haniza Sarmin, Professor of Mathematics at the Faculty of Science, Universiti Teknologi Malaysia (UTM) and Immediate Past President of UTM Toastmasters Club.
Engaging an audience of distinguished ambassadors and diplomats from Cuba, Romania, Austria, Ghana, India, and Poland, to name a few, as well as the delegation of the European Union to Malaysia, UTM senior officials, international and Malaysian students alike, His Excellency Ambassador, explained the unifying elements of the Belgian culture as food, music, art and sport.
For example, the resounding name of painter René Magritte attempted to unite reality and dreams through the movement of Belgian Surrealists. His Excellency had the pleasure of sharing a famous painting depicting surrealism as a unifying cultural movement that stemmed in Europe in the aftermath of World War I.
Upholding unity while supporting the economic strength of Belgium is Belgian chocolate and beverages. Belgium is the second biggest exporter of chocolate worldwide. Belgium also has an annual turnover of 50 billion euros through diamond production.
His Excellency Ambassador highlighted several collegial collaborations with Malaysian universities for academic connectivity through teaching and research activities. Offering scholarship opportunities for studying in Europe, Belgium is said to be one of the gateways to the Erasmus Mundus Joint Masters program.
To learn more : UTM Newshub