Leadership
Thammasat University produces graduates with disabilities to the labor market, expanding opportunities for equality in education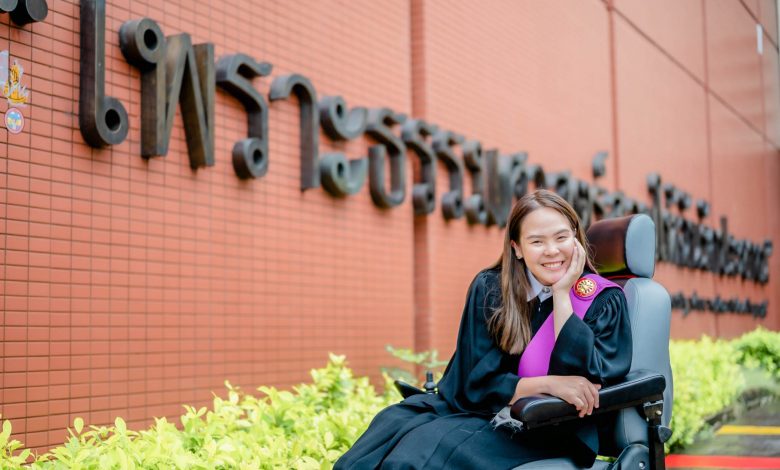 Thammasat University insists on being a university for all groups of people in society, aiming to create equality, and bridging the gap in education according to the determination of being a university for the people. It is regarded as the first higher education institution to establish "Students with Disabilities Project" to expand educational opportunities for people with disabilities to receive equal education and produce graduates who are ready to enter the labor market. Let's hear the story of a graduate with disabilities who attend the graduation ceremony this year, Ms. Nitcharee Pen-aekchanasuk, a graduate of the academic year 2019.
Than–Ms. Nitcharee Pen–aekchanasuk, a graduate from the Faculty of Journalism and Mass Communication, Thammasat University, second-class honours who is outstanding in both study and work. She is currently working as a corporate communicator to organizations in both the public and private sectors, driving policies for people with disabilities by which Ms. Nitcharee herself is under mobility impairment caused by an accident.
Ms. Nitcharee mentioned about studying at Thammasat University that studying at the university does support her in many ways. In fact, in the beginning, her intention to study at Thammasat University is from sensing the freedom of thoughts, open-mindedness not only towards political aspect but an idea of ​​what we would like to do. Thammasat helps us to expand our perspectives. At Thammasat University, there are professors who drive resolutions towards people with disabilities problems. From year one where wheelchair were inaccessible, but nowadays it has been fixed and it actually works. Most importantly, Thammasat is a model university in the field of universal design, driving creativity and social assistance. "I've never seen a university where people with disabilities can be anything they want to be regardless of what your dreams are. Studying at Thammasat University has proved that disability is not a hindrance. Whatever activity you wish to do, Thammasat University is more than ready to support. We feel good every time we go out to do activities and have the university's name on it. We are proud that we are one of the students with disabilities of Thammasat University."
I would like to leave a message for those who may see themselves as being limited or having obstacles. Everyone can actually make their dreams come true, just that the path or method may be varied. Therefore, do not assume that if we can't follow other people's paths, then we won't succeed. I want you to see that each of us have our own path, and having our own dreams. Try stepping in, and try lightening up the courage to make your own dreams come true. Whether it's coming to study at Thammasat University, or doing activities the pursuit of dreams. Everyone can achieve success in their own way. It is not necessary that the person who receives honours is the perfect person. It depends on what our dreams expect, Ms. Nitcharee concluded.
This year, Thammasat University has marked the graduation ceremony for the academic year 2019-2020 on 27-30 May 2022 at the main auditorium, Thammasat University, Tha Prachan Campus. In the academic year 2019-2020, there are 29 graduates with disabilities who sucessfully graduated as follows:
Of the 18 graduates with disabilities who graduated in 2019, 83% are employed, as follows:
Mr. Teeraphong Jaiprom, Faculty of Law
Mr. Patipat Boonnakorn, Faculty of Law
Ms. Pitchayapha Thammaratphimol, Faculty of Commerce and Accountancy
Ms. Orapriya Mongkolsitthichai, Faculty of Political Science
Ms. Jutamas Klinkajon, Faculty of Political Science
Ms. Watcharee Lanthaisong, Faculty of Political Science
Mr. Natthapong Khumpanich, Faculty of Economics
Mr. Sornram Salee, Faculty of the Faculty of Social Administration
9. Ms. Meena Saengthong, Faculty of Social Administration
10. Ms. Supisara Wanbaworn, Faculty of Social Administration
11. Ms. Panida Simainam, Faculty of Liberal Arts
12. Mr. Sakditouch Wisalaset, Faculty of Journalism and Mass Communication
13. Ms. Jeeranan Suaydudee, Faculty of Journalism and Mass Communication
14. Ms. Pornphat Ammartmanee, Faculty of Journalism and Mass Communication
15. Ms. Nitcharee Pen-aekchanasuk, Faculty of Journalism and Mass Communication
16. Ms. Phuttida Roerkpathomsak, Faculty of Allied Health Sciences
17. Ms. Sunattha Ruangsirikan, Faculty of Architecture and Urban Planning
18. Ms. Parichat Pohkongmee, Faculty of Public Health
11 graduates with disabilities who graduated in 2020 are employed, representing 100 percent, as follows:
Ms. Arisa Kaewkrajok, Faculty of Political Science
Ms. Natcha Trairat, Faculty of Political Science
Mr. Polawat Hemharn, Faculty of Social Administration
Ms. Natthamon Thanatrisit, Faculty of Social Administration
Ms. Buntarik Champaphan, Faculty of Social Administration
Ms. Orawan Premprik, Faculty of Social Administration
Mr. Jaruwat Laythaisong, Faculty of Social Administration
Ms. Sarocha Phadungkit, Faculty of Social Administration
Mr. Photsawat Khewmuean, Faculty of Social Administration
Mr. Thanaphat Laohaprasert, Faculty of Journalism and Mass Communication
Ms. Pattra Krangpanich, Faculty of Allied Health Sciences