Partnerships
Thammasat Business School joining hands with eight business schools to enhance Thai business education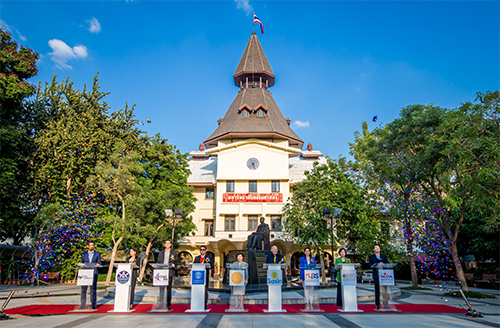 For the first time in Thailand's history, Thammasat Business School (TBS), Thammasat University has signed a Memorandum of Understanding (MOU) with eight other leading Thai business schools to enable the building of a business school network in Thailand (Business School Network of Thailand: BSNT). This historical event, which took place at Thammasat University Tha Prachan Campus on 4th April 2022, consisted of 9 representatives from 9 leading Thai business schools coming together to show their solidarity in working together to shape and form the future of business management education in Thailand. The main goals of the BSNT are to promote academic and research activities, to exchange knowledge and expertise among its members, to enhance the competence of Thai business schools, and to develop world-class academic personnel in Thailand, facilitating the development of the Thai economy in the future.
Since its inception in 2020, Professor Ruth Banomyong, Ph.D., Dean of Thammasat Business School has worked diligently for almost 18 months to initiate and coordinate the MOU ceremony for the nine members of the BSNT, which include: 1. Chulalongkorn Business School, Chulalongkorn University; 2. CMU Business School, Chiang Mai University; 3. Kasetsart Business School, Kasetsart University; 4. Khon Kaen Business School, Khon Kaen University; 5. Faculty of Management Sciences, Prince of Songkla University; 6. Faculty of Management and Tourism, Burapha University; 7. National Institute of Development Administration (NIDA); 8. Sasin School of Management, Chulalongkorn University; and 9. Thammasat Business School, Thammasat University.
One of the main goals of the BSNT collaboration is to develop and certify national accreditation standards for business management education, which will be discussed in more detail throughout the course of 2022. After the MOU signing is completed, members will continue to work together on academic collaboration, academic activities, sharing experiences, and developing expertise in various business related fields to enhance the competence of business schools in Thailand. A breakdown of the details of the MOU agreement are as follows:
– Academic activities: teaching and learning, faculty development, staff and student exchange, and sharing of best practices between member schools.
– Academic research networking: collaborations between BSNT faculty members on common research interests
– Academic seminars: knowledge sharing and pooled resources (e.g., faculty and staff)
– Community service: organizing free training or seminars for the general public and the provision of academic mentors from member institutions according to each school's field of expertise. In addition, each school will take turns in hosting annual BNST meetings. This may consist of visits to each school in various regions or the schools from surrounding provinces attending or organizing activities in Bangkok.
Prof. Dr. Ruth also added that this is to improve and advance the potential of Thai business education and build a strong foundation for creating skilled and academically orientated personnel that can help lead in the development of the Thai economy in the future. In addition, the BSNT network aims to initiate an important turning point in the history of the Thai educational system from a classic model (focused more on competition) to one more focused on networking in education. This cooperation and mutual support will strengthen the capability of all member institutions. Faculty members from the BSNT now have an opportunity to exchange knowledge, ideas, and perspectives to teach students. As for the students, which make up a key part of each school, they will have a broader vision from learning exchanges with faculty and students from other schools. Students will be equipped with various professional skills and be able to apply and adjust their own knowledge to work and be ready for driving the labor market.
"For the future direction, there may be an agreement with other schools. I think that networking will be beneficial for the Thai education system. All the business schools in the country have great potential and play a role in Thai education. If we bring the expertise and strengths of each school and work together, it will definitely have a positive effect on the Thai education system", Prof. Dr. Ruth concluded.