Partnerships
Ambassador of Bhutan visited Thammasat university to discuss ways to further enhance the bilateral cooperation between Thammasat and institutions in Bhutan.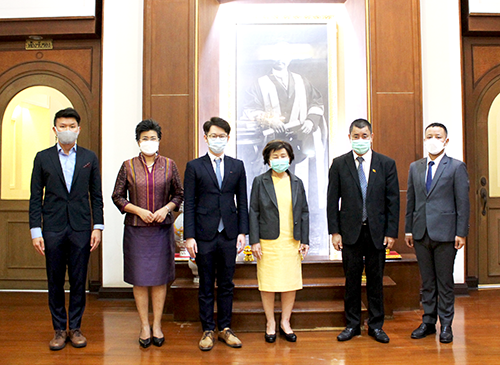 H.E. Mr. Kinzang Dorji, the Ambassador of Bhutan to Thailand, and Second Secretary Mr. Kinley Dorji were warmly welcomed to Thammasat University by Rector Gasinee, along with the Vice Rector for Administration (Tha Prachan) and International Affairs, the Dean and Director of the Bachelor's degree program from Puey Ungphakorn School of Development Studies, and staff from the International Affairs Office. After the Rector congratulated the Ambassador on his recent assumption of duty, both sides discussed the possibility of enhancing academic collaboration, particularly cooperating on a dual degree program under Sustainable Development Goals (SDGs) through cultural and rural lifestyle study tours.
The Bhutanese Ambassador cordially invited Thammasat to visit universities in Bhutan, while the Rector offered to provide a series of lectures when visiting the universities.
Thammasat also requested assistance from the Royal Bhutanese Embassy in Thailand to widely publicize the Thammasat International Student Recruitment program for Bhutanese students to study at Thammasat University.