Partnerships
Thammasat joins hands with 3 major companies to create Thammasat AI City for Innovation, Digitalization and Sustainability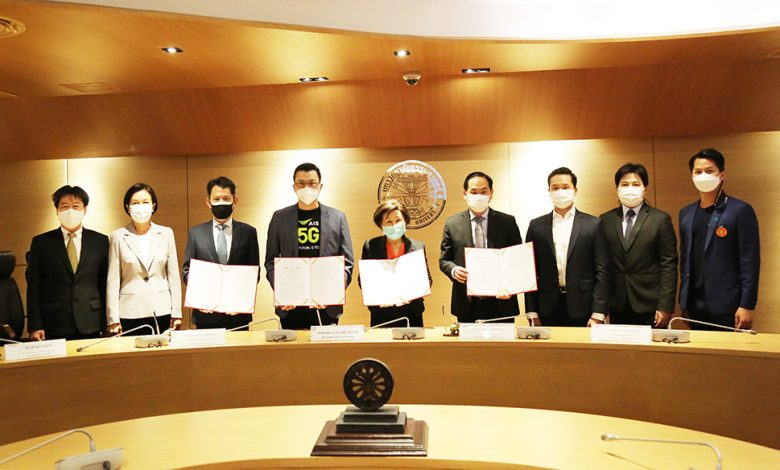 Thammasat University together with United Technology Enterprise Company Limited, Advanced Info Service Public Company Limited and NMB-Minebea Thai Company Limited has signed a memorandum of understanding on research and development in the "Thammasat AI City for Innovation, Digitalization and Sustainability" project to strengthen cooperation in research and development of innovative prototypes by bringing the goods and research products to be tested in order to develop the area of Thammasat University, Rangsit Campus into an artificial intelligence city (AI City), which can be further advanced into innovations that will benefit all parties by connecting a network of stakeholders to drive research results and innovations that can be used in practice under 3 main areas of the research framework which are: 1. Safe City Management; 2. Smart Mobility; and 3. Smart Environment.
Assoc. Prof. Gasinee Witoonchart, Rector of Thammasat University said that the university has always been aware that there should be tools or innovations to monitor and watch out for worrisome events, or various undesirable situations in order to be able to resolve problems that arise in a timely manner and besides, sometimes the Thammasat community requires a lot of information for decision making. For example, about the transportation route to avoid traffic congestion. As there are many individuals living within Thammasat University, it is for the reason that we have to manage these matters.
Assoc. Prof. Dr. Phitsanu Tuchinda, Vice Rector for Rangsit Campus Administration for Quality of Life, Thammasat University revealed that Thammasat University, Rangsit Campus is particularly suitable as a prototype or simulation area for technology-related works and AI City. ​​Thammasat University, Rangsit Campus has a total area of ​​over 1,800 rai, making it a great diversity. At this place, whether it is a variety of people, education level, occupation, nationality and most importantly of social equality regardless the handicapped, the elderly and the underprivileged. Therefore, we shall receive cooperation from various sectors to invent new innovations in order to drive Thammasat University into a Smart City to support such diversity.
Mr. Thanaphan Tantisattayakul, Co-Managing Director of United Technology Enterprise Company Limited (UTE) in Benchachinda Group said that UTE is responsible for laying out digital infrastructure by setting up Smart Lucky Pole in the area of Thammasat University, Rangsit Campus. Smart Lucky Pole is an innovation developed by UTE themself. The advantage is that the data transmission system is very stable and having a low latency of 1 millisecond known as URLLC or Ultra-reliable and Low Latency Communications as well as installing IoT devices on the pole, along with VDO Analytic from CCTV, alerting and interacting with the digital signage in an interactive format. It also retrieves data obtained from the Environment Sensor, Flooding Sensor and PM2.5 Sensor as information for analysing and displaying via Dashboard, which will be useful for research and development in the area of ​​Thammasat University, Rangsit Campus before applying to other areas in the future.