Leadership
'Thammasat' won the 'Friendly Design Awards 2022' for 4 years in a row All areas of the university are 'disabled-friendly'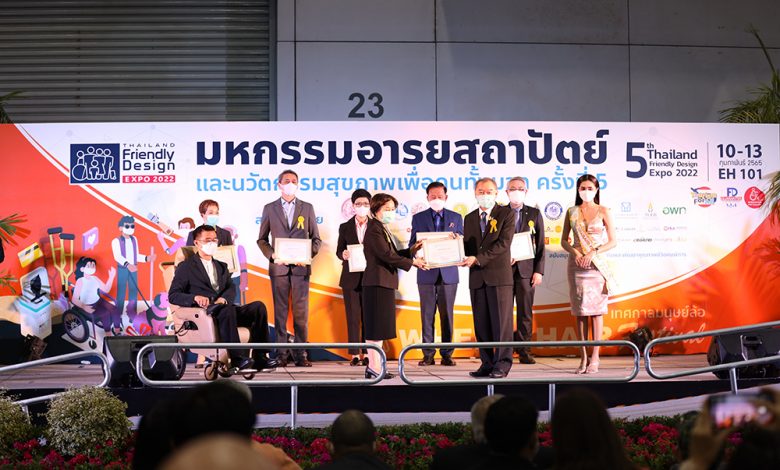 Thammasat University was chosen as "Tourism for All" from the 5th Thailand Friendly Design Expo of the year 2022 by receiving the Friendly Design Awards 2022 as an outstanding organization in promoting and implementing universal design for everyone to equally access, and is friendly to all. This is the 4th year in a row that this award has been received.
Assoc. Prof. Dr. Chumkhet Sawaengcharoen, Vice President for Rangsit Center Adminsitration Division, Thammasat University revealed that as a university for people who focus on sustainable development, Thammasat University has provided opportunities for all groups of people to have access to education. One of them is to provide special quotas to students with disabilities in the form of direct admissions. The share is set at 1% per committee, which is in line with the Sustainable Development Goal (SDGs) Goal 10 on reducing inequality within and among countries.
In addition to providing equal access to education for all and academic services, Thammasat University continues to improve its buildings as well as implementing universal design to facilitate and unlock the restrictions of students with disabilities which will be more conducive to learning.
Assoc. Prof. Gasinee Witoonchart, Rector of Thammasat University said that on the total area of ​​​​the university, nearly 100 buildings are located. Currently, all buildings consist of wheelchair ramps, elevators, toilets, and parking spaces for students with disabilities. While roads within the university are equipped with warning signs for deaf and blind students, from this, we are regarded as the first educational institution in Thailand to install this system. For student dormitory, Thammasat University has specially designed under international standards, similarly to exercise facilities such as fitness centers, artificial cliffs, and swimming pools that have been designed to be accessible to all students with disabilities, and while traveling on campus, ramps are installed on all electric buses.