Partnerships
Thammasat in collaboration with 'Business Partners' to launch '88 SANDBOX', the largest Startup Ecosystem in Thailand.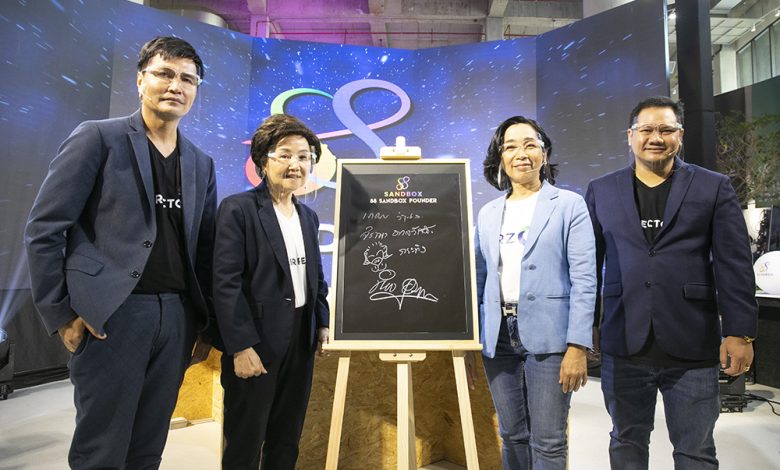 Thammasat University has launched "88 SANDBOX: The Next Unicorn Platform", a center for entrepreneurial skills learning of the future with a network of 88 Sandbox Partners as sponsors and will contribute as "Mentor" to spark the fire of dreams and pass on success to create the next "unicorn".
Assoc. Prof. Gasinee Witoonchart, Rector of Thammasat University, revealed that TU, as a university for the people has the intention to foster Thai startups to the world level using the potential and abilities that the university in collaboration with the 88 SANDBOX project to advance and transform creativity into value and sustainable business.
Assoc. Prof. Dr. Pipop Udon, Vice President for Academic Affairs, TU, said that 88 SANDBOX will be a platform for everyone, regardless of gender, age, education or ethnicity to visit and build the skills that are suitable and necessary for building a startup. This is to prepare ordinary people to become entrepreneurs.
Ms. Jiraporn Khaosawat, Executive Chairman of PTT Oil and Retail Public Company Limited or PTTOR said that at this time the world is changing in every dimension. We all need to keep up with the world and that the most important thing is to bring the digital world and the physical world together. This is an open opportunity for Thai startups as emerging technology means the emergence of new opportunities to develop and upgrade the Thai economy in the future
Ruangrote Poonphon or Krating, who has been designated as The Godfather of Thai Startup, one of Silicon Valley's co-workers, said Southeast Asia is currently spawning a large number of unicorn-level startups whether in Singapore or Indonesia, therefore 10 years from now , it will be regarded as the best time to start a startup business.
For 88 SANDBOX: The Next Unicorn Platform is a project that combines education of the future with the science of business administration that keeps pace with changes. It will be conducted through 5 important activities, namely 1. Skill Space, develop entrepreneurial skills through the Learning Platform and create an idea marketplace 2. Expo, the largest startup exhibition. This will be a space for creative people to meet and gather. 3. Pre-Hackathon, startups will be closely monitored and mentored by business mentors to develop their skills, ideas and work methods. 4. Hackathon, a platform where startups compete in projects. And those who are selected will receive investment funding. 5. Forest of Unicorn, provides startups with privileges and a rich growth environment and will enable all startups to fully enter the business world.
In addition, you can update more information and news on the 88 SANDBOX project website at https://www.facebook.com/88Sandbox