Leadership
Thammasat, the world-class 'Sustainable University', EFMD commends as one of the 3 learning models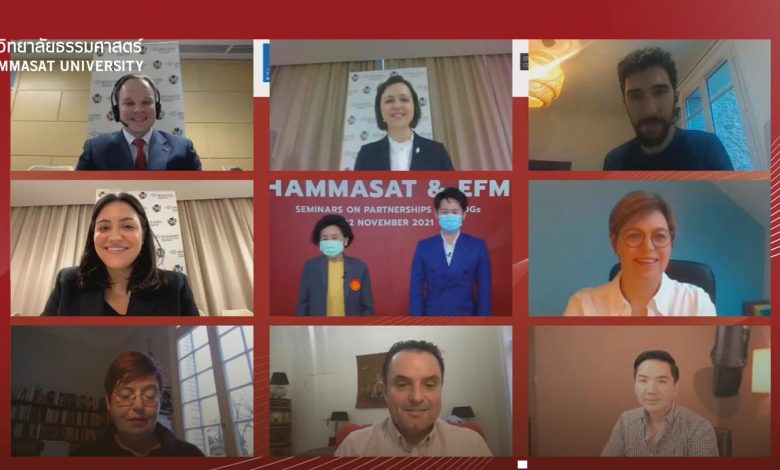 Thammasat University in collaboration with the European Foundation for Management Development (EFMD), an educational quality assessment institution of the European Union organized a webinar titled "Thammasat & EFMD Seminars on Partnerships for SDGs" to showcase exemplary practices in building partnerships that foster the development of collaborative learning between the education sector and society by having three models of sustainable development projects (SDGs) that received the Excellence in Practice Award from EFMD.
One of the three prototype projects which is the work of Thammasat University under the Thammasat Model: Sustainable Community Enterprise project has been granted Silver for the Excellence in Practices Awards 2019
Asst. Prof. Dr. Nopporn Ruengwanich, Director of the Integrated Bachelors and Master Degree Program in Business and Accounting (IBMP), the Faculty of Commerce and Accountancy, Thammasat University presented that the Thammasat Model is a project that allow the students of the Faculty of Commerce and Accountancy to work closely with communities and adapt business knowledge gained from the classroom to support and enhance the communities' products. In addition to helping more than 160 communities, students will also be able to experience the real problem resolution and acquire knowledge about local wisdom as well.
Dr. Eric Cornuel, President of EFMD Global, said EFMD is committed to being a leader in promoting global management excellence and a bridge between the education and business sectors. EFMD, as the non-profit organization has members from all over the world including scholars from both business and government sectors, as well as various institutions. Therefore, EFMD members are encouraged to cooperate in all aspects from building a learning network, research network to career opportunities and accreditation assessments of educational institutions.
Assoc. Prof. Gasinee Witoonchart, Rector of Thammasat University, as the first and only Thai person in the ASEAN region who is a lifetime honorary member and a member of the Board of Trustees of EFMD, said the innovations that EFMD has generated over the years have played an important role and have had a profound effect on the change in management education. I am very proud and honored to be appointed to the EFMD Board of Trustees, which is assigned to support the creation of social innovation to be used to solve emerging global challenges while maintaining ethical values, responsibility and sustainability.
In addition, the project that has received the Excellence Practices Awards for sustainable development and another two projects were exhibited as prototypes: 1. The year 2020 Award, Developing Entrepreneurship in Russia project by Moscow School of Management SKOLKOVO has been granted Gold for the Excellence in Practices Awards; 2. The year 2021 Award, "Entrepreneurship for good" project: unleashing the potential youth to impact and change the world by The European Center for Executive Development or CEDP, which received Gold Level for the Excellence in Practices Awards.