Research
EdUHK Clinches Six Awards at International Exhibition of Inventions of Geneva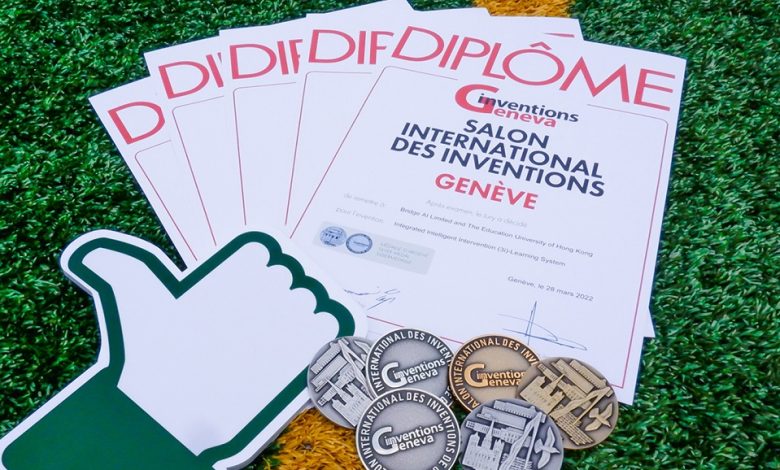 The Education University of Hong Kong has received four silver medals and two bronze at the 48th International Exhibition of Inventions of Geneva in March 2022. The exhibition is a renowned event to showcase innovations and inventions from all over the world. The award-winning inventions cover a variety of areas: behavioural and cognitive therapy, music education, environmental detection, image captioning and product search engines.
Silver Medals
1. A New Generation of Dissolved Oxygen Sensor Using Replaceable Photo-sensing Film
Principal investigator: Professor Rudolf Wu Shiu-sun, Advisor (Environmental Science), Department of Science and Environmental Studies
A novel device which detects and keeps a permanent record of the dissolved oxygen (DO) level in a medium using replaceable photo-sensing film. It is unaffected by biofouling, thus providing a cost-effective method of DO monitoring over large bodies of water
2. Integrated Intelligent Intervention (3i)-Learning System
Principal investigator: Student Victor Wong Chun-man, Doctor of Education programme
A distance-learning system combining AI and Internet of Things, which supports carers to conduct Applied Behaviour Analysis therapies for students with special educational needs.
3. Reimagining Music Learning with e-Orch
Principal investigator: Dr Leung Chi-hin, Assistant Professor, Department of Cultural and Creative Arts
A system consists of an app and a cloud-based software, which specifically designed for music performance and composition. Integrated with the patented Grid Notation, virtual instruments and AI music generator, the innovation makes music education accessible and inclusive.
4. UNISON: Unpaired Cross-lingual Image Captioning
Principal investigator: Professor Philip Yu Leung-ho, Department of Mathematics and Information Technology (MIT)
An innovative AI system which generates cross-lingual (English to Chinese) image captions without relying on any paired caption corpus. The system consists of two phases: (i) a cross-lingual auto-encoding process and (ii) a cross-modal unsupervised feature mapping, which can perform real-time image to text conversion.
Bronze Medals
5. Lighten Dementia Game Set (Donut, Tea Bag, Fly)
Principal investigator: Alumna Christine Chan Ka-kei, Postgraduate Diploma in Education (Primary) programme
A game-based training set specially designed for elderly with dementia in Asian communities. The training set fosters social engagement among elders through Cognitive Stimulation Therapy, which helps slow down the progression of dementia and maintain cognitive functions.
6. Shopgrouper – An Online Product Search Engine that Creates Intelligent Personalised Shopping Experience
Principal investigator: Alumni Dicky Kwok Wing-cheung and Lam Yick-sun, Bachelor of Education (Honours) (Secondary) – Information and Communication Technology programme, and Dr Henry So Chi-fuk, Senior Lecturer, MIT
An e-commerce product search engine with an AI product categorisation system. It enhances shopping experience by crawling products data from online shops and offering precise recommendations to consumer. The merchant-customer matching feature also makes shopping more convenient.