Partnerships
"Thammasat" launches a new medical program aiming to create a body of knowledge for self-development for the use of patient care and organizational development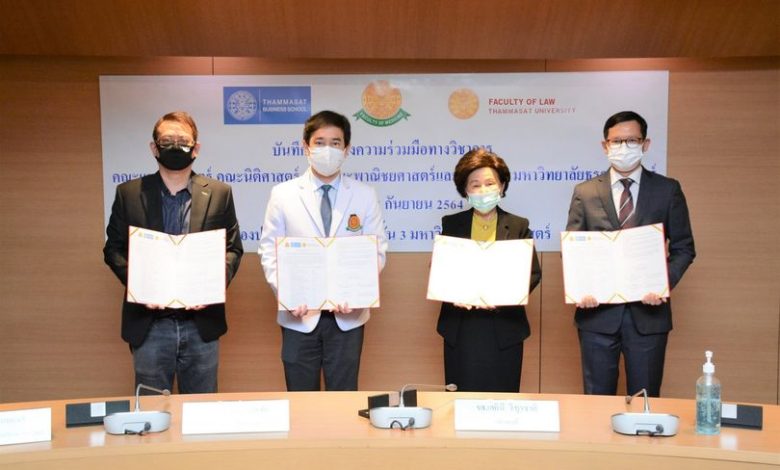 Associate Professor Gasinee Witoonchart, Rector of Thammasat University presided over the signing ceremony of a memorandum of understanding between the Faculty of Medicine Faculty of Law and the Faculty of Commerce and Accountancy, Thammasat University to open an integrated program between Bachelor's Degree in Doctor of Medicine and Master's Degree in "Medical Law" and "Hospital Management" by Associate Professor Dr. Dilok Piyayotai, Dean of the Faculty of Medicine, Associate Professor Dr. Munin Pongsapan, Dean of the Faculty of Law and Professor Dr. Ruth Banomyong, Dean of Thammasat Business School.
This program is an integrated program of Bachelor of Medicine and Master's Degree in Medical Law and Master's Degree in Hospital Management. It is a multidisciplinary study that uses the strength of Thammasat University: expertise in law of the Faculty of Law and expertise in management of Thammasat Business School for teaching and learning approach, such as, Legal principles related to medicine, Medicine and ethics, Health law, Hospital administration, Innovation and Medical Intellectual Property Law, Medical business law, Advanced Forensic Medicine, etc.
In addition, this program promotes advanced professional development, research and body of knowledge for self-improvement which can be applied with patient treatment and continuously organizational development which responds Thai society's needs.