Partnerships
H-FARM INCREASES ITS UNIVERSITY OFFER: NEW PARTNERSHIP WITH UNIVERSITY OF EUROPE FOR APPLIED SCIENCES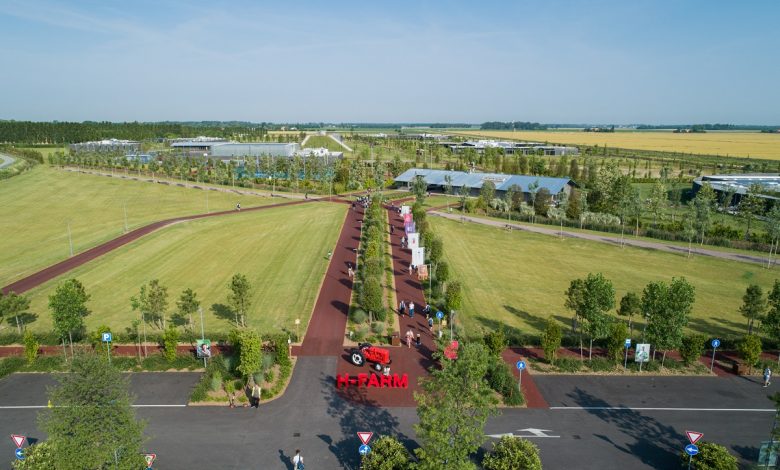 Two new courses: a bachelor's degree in Digital Business & Data Science and a master's degree in Innovation Design Management. International faculty, focus on the most in-demand skills and the opportunity to spend a year at the EU Innovation Hub in Potsdam-Berlin.
Ca' Tron, Italy – H-FARM COLLEGE, H-FARM's institute for undergraduate and postgraduate education is expanding its offering of bachelor's degrees, master's degrees and executive courses to deepen knowledge of the digital economy, management and digital transformation.  Thanks to the partnership with the University of Europe for Applied Sciences (UE) in Berlin, two new fully state-accredited courses have been added with teaching focused on practical application, the development of the most effective skills and case history studies. These are the Bachelor of Science in Digital Business & Data Science and the Master of Arts in Innovation Design Management.
Both focused on innovation, digital entrepreneurship and knowledge of new technologies, the bachelor's degree in Digital Business & Data Science is taught in English, with a focus on the collection and analysis of data, now increasingly strategic to building the success of any company and crucial to any institution. This degree responds to the huge and growing demand for specialists in digital business, computer science and data analyses, offering students career prospects as data scientists, data analysts, market research analysts, but also e-commerce managers and digital marketing managers.
The course includes the first year at the H-FARM Campus and the second at the UE Innovation Hub of Potsdam, which is on the grounds of the SAP Think Campus, one of the most important technology centres in the Berlin metropolitan area. The third year is dedicated to the internship, an important opportunity for each student to work on a real project designed on his skills and targets together with H-FARM College, University of Europe and the companies involved to put into practice the knowledge acquired and the skills developed during the course.
The Master of Arts in Innovation Design Management is among the most cutting-edge management programs today. It is aimed at those who want to specialize in a field becoming increasingly important for companies looking to create an organizational culture of innovation and change. The program has a two-year duration, the first at H-FARM Campus and the second at the UE Innovation Hub in Potsdam. Graduates develop strong skills in interdisciplinarity, innovation and creative problem solving and work, for example, in corporate strategy, consulting and customer experience design.
"With this partnership with the University of Europe for Applied Sciences, H-FARM COLLEGE confirms itself as a pole of attraction for young talents who want to study the most up-to-date topics in order to be ready to face any possible future scenario", says Antonello Barbaro, CEO of H-FARM Education. "Those who choose a course at H-FARM know that here they can have a number of advantages that they would be hard pressed to find elsewhere: the possibility of coming into contact with an important network of entrepreneurs and startuppers, cultural events on the most popular topics and a campus on a par with the most famous American campuses".
Prof. Johannes Kiessler, Academic Director Campus Development & Corporate Partnerships of UE is also pleased about the cooperation: "We are very excited to enter this new partnership with H-Farm College. The collaboration of two internationally acclaimed institutions across two countries confirms the global change to a more human-centered and sustainable culture of innovation."
The two new courses will start in September 2022 at the H-FARM Campus in Ca' Tron (TV).
Enrolments are already open, for all info please visit: www.h-farm.com
H-FARM
H-FARM is the innovation platform that supports the creation of new business models and the digital transformation and education of young people and companies. Founded in January 2005 as the first startup incubator in the world, H-FARM has been able to re-invent itself and adapt to market needs without ever losing sight of its core values that lie in seizing the opportunities created by digital innovation and in maintaining a Human-centric approach. Today, it is the only place in the world that unites in a single place investments, services for businesses and educational programmes. Structured as a campus minutes away from Venice, H-FARM spreads out over 51 hectares, 20 of which is woodland, and is the most important center for innovation in Europe. Counting over 600 employees across Italy, H-FARM is a unequalled ecosystem at an international level.
University of Europe for Applied Sciences (UE)
The University of Europe for Applied Sciences is a state-recognised private university with campuses in Berlin, Potsdam ("UE Innovation Hub"), Hamburg, Iserlohn and the Virtual Campus ("Campus in the cloud"). The university offers bachelor's and master's programs as well as dual bachelor's and MBA programs. UE's mission is to train the digital pioneers of tomorrow by teaching key skills for future job markets by combining tech, data and design all under one roof and breaking traditional academic models. In the fields of Business, Sport and Psychology, Art & Design as well as Tech and Software, designers and decision-makers are educated who combine creativity, entrepreneurial thinking, practical relevance, internationality and virtual innovation.
The university has been institutionally accredited by the German Council of Science and Humanities for a maximum period of ten years and systematically accredited by the accreditation agency FIBAA. U-Multirank has recognised UE as a world leader in international orientation and ranked it as one of the top 10 universities in business studies in the area of teaching quality. https://www.ue-germany.com