Partnerships
Fleming College partners with Trebas Institute Ontario to offer Fleming programs in Toronto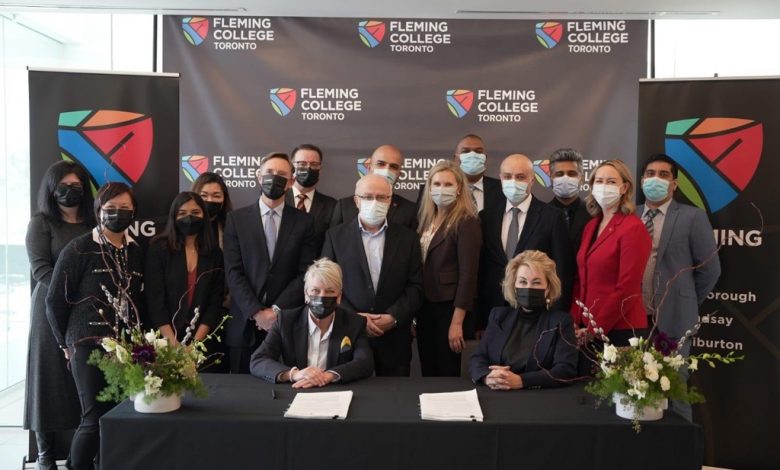 Fleming College and Trebas Institute Ontario are proud to announce a new partnership that allows students from all over the world to attend and graduate from a selection of programs at the new Fleming College Toronto Campus.
Ontario's Ministry of Colleges and Universities approved the new partnership under a policy which allows flexible collaboration between private and public colleges, so students can access an extended range of programs and services from both sectors.
Fleming College is an Ontario College of Applied Arts and Technology with campuses in Peterborough, Lindsay and Haliburton. With more than 80,000 graduates, the college emphasizes practical, hands-on education that prepares graduates for success in the workplace. The new Toronto campus, situated in Midtown near Yonge and Eglinton, gives students access to all the career opportunities that come with living in Canada's business capital.
Established in 1979, Trebas Institute has campuses in both Montreal and Toronto. Over 3,000 graduates have attended Trebas from over 40 countries, making for a culturally diverse student body. This college is one of the principal subsidiaries of Global University Systems (GUS), an international network of higher education institutions united by a passion for delivering accessible, industry-relevant credentials.
Through the partnership, four Fleming business programs will be delivered at Fleming College Toronto, providing international students with the opportunity to enroll in Fleming's range of business programs. The initial offerings for the first intake for Fall 2022 are:
Diploma in Business (4 semesters)
Graduate Certificate in Global Business Management (4 semesters)
Graduate Certificate in Project Management (2 semesters)
Graduate Certificate in Supply Chain Management — Global Logistics (2 semesters)
This agreement ensures that student experience and academic delivery will be aligned with Fleming's high standards of education. Students will benefit from all the amenities and services that the campus provides, including career counseling.
Mohamed Slimani, VP of operations at Trebas, said: "On behalf of the staff and student body of Trebas, we are all excited about the partnership. The students who graduate from Fleming's highly regarded programs will bring in-demand skill sets and strong work ethic to Ontario's labour market."
Maureen Adamson, President of Fleming College, is delighted that Fleming can broaden the reach of some of the college's most sought-after programs. "Our initial offerings provide students with knowledge and experience that is practical, in-demand, and workplace-ready. This exciting partnership offers new options for students to study business programs in the GTA or at our Sutherland Campus in Peterborough."
Cyndi McLeod, CEO of GUS Canada, believes that the students at Fleming College Toronto will see many benefits from the expertise and practicality that Fleming is known for. "We are thrilled to welcome Fleming College Toronto to the GUS Canada ecosystem. GUS Canada and our institutional brands are on a mission to lead the future of education in Canada and the natural synergies between Fleming College and Trebas Institute make this new partnership particularly exciting. Fleming College Toronto will provide an innovated education model and real-world experiences to maximize student success while filling the skills gap in national and international business sector."
"On behalf of GUS Canada, I am very excited to be partnering with Fleming and all their wonderful faculty and staff," said McLeod. "Simply put, this partnership opens doors and many opportunities for students."
For more information https://www.flemingcollegetoronto.ca/
About Fleming College
Fleming College respectfully acknowledges that we are situated on Michi Saagiig Anishinaabeg lands and territory. Located in the heart of Central Ontario, Fleming College has campus locations in Peterborough, Lindsay, Cobourg and Haliburton. Named for famous Canadian inventor and engineer Sir Sandford Fleming, the college features more than 100 full-time programs in Arts and Heritage, Business, Environmental and Natural Resource Sciences, General Arts and Sciences, Health and Wellness, Justice and Community Development, Skilled Trades and Technology, and Continuing Education. Fleming College has more than 6,800 full-time and 10,000 part-time students, and 80,000 alumni.
Trebas offers programs in music, film, business, technology, and program management. Their goal is to provide education that gives students a competitive edge in their chosen industry, while constantly updating offerings to keep pace with the changing marketplace.
The campus boasts state-of-the art equipment for sound and video production, and classes taught by expert instructors with industry experience. All this prepares students to leave their mark in their chosen field.
Many of Trebas' alumni have gone on to win major awards and work for big industry names, like Virgin and Universal Music Group.